MERCS: Comeback im neuen Jahr?
Das MERCS-Tabletop steht wohl vor einem Comeback.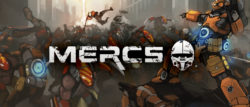 Hervorhebungen durch Brückenkopf Online:
Greetings MERCS!!!

I'm sure there's a ton of questions, and I'll do my best to answer as many as I can, but let's start with some basic information that I'd like to share with the MERCS community at large.

First, both Kirk and I are incredibly excited and extremely grateful to have the opportunity to breath new life into the MERCS universe. We are also very appreciative of Brian Shotton, Keith Lowe, Tom Mason and everyone else involved in MegaCon Games all of whom had some part, large or small in the creation and development of the IP. We're especially grateful to Brian for trusting us with this enough to allow us to take ownership of it.

Introductions. A little about us.

Kirk has been in the gaming industry for over 30 years. He owned and operated The War Room, a retail store located in Johns Creek, GA for 15 years. He established The Miniature Building Authority in April 2002 and has been creating fantastic tabletop scenery for well over a decade. Kirk is an expert in manufacturing processes while having a great creative side, coming up with many of the concepts that have been executed by MBA throughout the years. Kirk has extensive knowledge in working with manufacturers in all sectors, both domestic and international, and has fantastic relationships with many of the companies that produce the great products across the industry. He is also widely versed in logistics chain management, having spent many years dealing with FTL and LTL container shipments along with all forms of domestic transport.

I am getting close to my second decade in the miniature gaming industry, from business development to order pulling, I've worn many hats. I spent close to five years as a playtest lead for Privateer Press in the MK1 and early MK2 eras. I was the playtest coordinator on Relic Knights, spent a number of years helping develop Dark Age (I am the first employee to have been added to the game, Oz the Pit Champion), as well as writing most of Wrath of Kings (only designer to work on the game from concept to print and many consider it my 'baby') while I was at CMON. I've been involved with planning, running and executing a fair number of highly successful Kickstarter projects, there's a possibility that if you backed a CMON project in the early days, I may have packed your order…unless it was wrong, then it was someone else.

The Horizon – Next up, what's going to happen with MERCS?

To start, I'm going to ask you all for your patience. While I know the news is exciting, there's two things to bear in mind right up front. One, this whole thing came together rather quickly, while all the business details have been worked out, the planning is just beginning, and two, we are a two person company, and both of us have full time jobs outside of FAS. So with that in mind, here's a quick timeline summary with the simple caveat that things can and most likely will change.

December 2020 – transfer of remaining MCG physical inventory.
January 2021 – soft relaunch of product sales
Q2 – Q3 2021 – brand relaunch with a small Kickstarter campaign
Q3 – Q4 2021 – new product launches

Looks pretty simple, but expanding on this a bit to allow you all some transparency. In December, Kirk and I will be taking possession of all remaining models, molds and tooling, there is no print material, so no cards, no books, no packaging, etc. Once we have everything inventoried, cataloged and put away in the warehouse, we then have to start building sellable kits, along with designing new packaging and print materials. We may do a print on demand option for the MERCS 2.0 rulebook, but an updated pdf will go online for free.

Assuming all goes smoothly, we will open up our webstore to direct purchase and solicit the FLGS channel to get product availability started. The hobby distribution channel is in a weird place right now due to C19 and most distributors are not taking on new partners (my day job involves working directly with the hobby distribution channel still), but we'll do what we can to make product as widely available as possible. I am a firm believer in the fact that a gaming community does not grow without direct support. We'll work hard to make sure you can get what you need to play games.

Ugh…a Kickstarter? Yes, we will launch a small controlled campaign. There's only two of us, so we have to be very mindful of scaling beyond our capabilities as a small company. There's no denying the impact a Kickstarter has on marketing, brand growth and company liquidity, but I've been involved with and consulted on enough campaigns to know that they can quickly outscale your capacity. We're also keenly aware of production timelines, and we do not want to be waiting another 2 or 3 years for full product support.

Now based on the above super oversimplified schedule, a few things will happen, we have a lot to do in a short period of time, (we haven't even had a chance to get the website and social media needs taken care of yet), but we're full steam ahead on getting everything up and running as smoothly and quickly as possible.

The product we release in January will be products you have already seen, the plastics that were a little lacking in detail and not quite up to MCG quality standards. We know right off this isn't ideal, but it's the fastest way we can start to generate revenue (we are a company and have to do that), as well as the fastest way to get new players into the game and new forces on the table for the veterans out there. This will enable us to get new models, new masters, new molds and new packaging into production. We are looking at the most viable ways to get new product manufactured using current industry standards, plus we are looking at a new technology that we may very well bring in house as well. We will do our best to be transparent with the community as we work through these processes, but clearly we need your help to make that happen.

MERCS 2.0 will be the supported version for the soft launch, there will be a potential 2.1 update with a living FAQ. There will be a new edition. I have already built an internal team that has everything from hardcore MERCS fanboi's to MERCS newbs to help get a new edition into a playable state as quickly as possible. I will assemble multiple external testing teams towards the end of the year, there will be an announcement that goes out to the community with how to apply and get involved later this month.

Recon and Conflict will get some love as well, but the first step is to re-establish the tabletop miniatures game.

Kirk and I are both firm believers in interacting with, and listening to the fanbase. We have both spent many years creating and developing products, as well as many years working in a booth at the various shows and industry events interacting, chatting and gaming with the passionate people who love miniatures and the games we play with them, as much as we do. We both know first hand the importance of direct communication with the community that is built up around a product. In short, you all.

Going forward, it's possible we may make a decision you don't like, we may change something you don't want us to, we may not change something you want us to, we might miss a comma, or a period, we could very well kill off your favorite character, create a character that you just can't stand, or any other random thing that might not be perfect, but sometimes the only thing we'll be able to say is 'we're only human' and we miss things from time to time.

We will set up an email address for you all to communicate directly with us, send us your requests, suggestions, complaints (hopefully we don't see many of these), concerns, or well wishes. We will also have an email set up to manage any customer service needs, broken parts, missing pieces, bad dice, terrible luck and all those other random things that our out of your control that we might have a fix for (probably just missing pieces and broken parts, but hell you never know right?). For now you can go to www.fifthangelstudios.com and sign up for our newsletter (hit that little orange chat button bottom right of the page).

For now, I'll be in and out of the various groups and social sites interacting best I can as I dive into getting all the rules, art and pre-production ducks in a row, Kirk will be working hard at getting the product cycle integrated into the warehouse, and doing the backend work for the websites so we can get things up and running as soon as possible.

We both would like to sincerely thank you all for the initial excitement and warm welcome we have received in the last few days, and we look forward to speaking with, meeting and possibly getting a game in with the lot of ya!

Until then…may all of your corporate takeovers be sneaky, underhanded and violent affairs.
Quelle: MERCS auf Facebook
Link: Fifth Angel Studios