Westfalia Miniatures: Герої – The Heroes
Westfalie sind wieder mit einem Kickstarter unterwegs.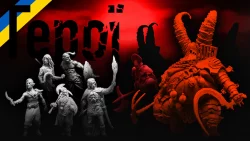 A voice from the mist!

Or rather a random message on Instagram was how we made Roman's acquaintance.

We agreed to get a small set of minis done that depicts a classic RPG party with an Ukrainian twist, because we really like his work, and supporting a cheeky artist in a war zone is a safe way to up your Karma if nothing else!

A campaign was planned for mid 2023, and then all hell broke loose in Ukraine. They're targeting civilian infrastructure at the time I am writing this, and Roman is seriously concerned that this might affect his ability to connect with us and the world. His wife has found refuge in the Czech Republic, but Roman is still in Ukraine, and there is a very real possibility of him being drafted into the army. So yes, we all agreed to not wait and that it would be best to host this small campaign next.

Living in a war zone is a soul destroying experience and I truly believe that support – of whatever kind – might make all the difference. Our very own Boris was happy to add to the campaign with a henchman for the adventurers and a rotten tank.

So how exactly does this help Roman?

1. Roman has already received the full payment for the miniatures that he sculpted for this campaign.

2. Roman will retain the reproduction rights for his sculpts.

3. In addition, Roman will get 35% of the profits after the expenses for sculpting, production and fulfilment have been deducted.

Pledge Levels

We have 2.

All hail the heroes! 60USD / 80CAD – This set includes every miniature we make available in this KS. It starts with Roman's 4 heroes, Boris' henchman and the tank. This tier will also get you an invitation to the pledge manager.

Custom pledge 1USD – Pledge one dollar now and pick the miniatures you'd like later in the pledge manager.

Postage will automatically be added and is10C$ for North America and 20C$ for the rest of the world.
Stretchgoal

Roman made a rather brilliant thug and we're happy to add him for free to the 'All hail the heroes!' tier if we hit 15K Canadian.

Add-on's

This list is for people that have chosen the Custom Pledge tier.
Production, Postage and Fulfillment

The production will be managed by Wyrmforge Texas. The postage of 10C$ for parcels to North America and 20C$ to the rest of the world has been baked into the pledge levels. If you just wish to follow the progress of the campaign, then please don't choose a tier with a reward. We expect this campaign to be fulfilled in June 2023.

Those sweet minis!

The core set consists of 4 adventurers sculpted by Roman and 1 henchman and the tank sculpted by Boris. The minis are 32mm scale, but the tank is a fair bit larger. here is a comparison shot to one of our 32mm minis.

Just to give you an idea about the scale of that tank! Boris didn't have Roman's miniatures at the time this image was taken, but they obviously fit in scale.
Inspired by classic paintings, this is the quintessential slavic hero.

That ef is a cossack!
This lad could've fought at Lake Peipus, but he's a dwarf and fights in dungeons!

An elvish spring maiden, collecting herbs.
I think that's a self portrait of Boris. :–)

In addition we have the Tank, sculpted by Boruc, and 1 tankie sculpted by Romuc.

Taaaaaaank!

That face

The Team

Boris Woloszn – 40, Poland, sculptor
Gregg Williams – 40, USA, production
Kawe Weissi-Zadeh, Canada – 50, everything else

Let's see where this goes!
Die Kampagne ist finanziert und läuft noch 7 Tage.
Quelle: Герої – The Heroes