Rubble City 2: Modular Scenics Kickstarter
Der neue Kickstarter von Fenris Games läuft noch eine Woche.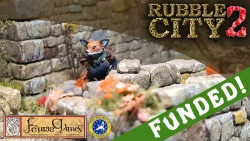 We're adding to our popular set of hand sculpted, hand cast, resin modular scenery for use with 28mm miniatures,  adding multiple one-piece ruins, interchangeable wall sections, objective markers and more!

Five years ago here on Kickstarter we funded our first set allowing you to represent as much or as little of a ruined city as you needed for your players in their overground adventures. We've remastered, resculpted, and added to The Lazy Forger's original 2018 masters to make new and compatible scenic pieces which work equally well with or without the Starter set from Rubble City.

This campaign expands on those basic sets with standalone stone huts and scatter terrain just as suited to diorama building and skirmish tables as to building entire cityscapes. Whether you're playing D&D, Frostgrave, Mordheim, Confrontation, Bolt Action, or any miniatures-based wargame or RPG, these resin ruins will fit the bill.

Already have the first set? These new models will mix in seamlessly while also allowing you to make standalone terrain pieces. Just need some tumbledown hovels to populate a 2×2′ skirmish board? We've got you covered.

The Pledges

No pledges have all stretch goals automatically added, see below in the Stretch Goal section for more info, but at a glance you can see the silhouettes of what is yet to be unlocked and added free to each pledge.
Stretch Goals

UNLOCKED STRETCH GOALS (unless specifically stated) WILL NOT BE AUTOMATICALLY ADDED TO ANY PLEDGE LEVELS. You can add them by increasing your pledge amount by the price needed, see more in the add on section below.
Add-ons

You may add as many of the packs as well as additional pledges from the campaign as you wish, this will be sorted afterwards in the pledge manager, so just make a note and  adjust the pledge amount accordingly.

E.g. if you want an extra pack of Treasure Markers alongside your TUGURIUM pledge, make your total pledge £90 (£75 + £15).

Some of these are newly remastered models and sets from the existing Fenris range, appropriate to this KS; some are new pieces which are made specifically for this campaign. All of them are offered at a reduced RRP.

Any confusion with your pledge total, don't hesitate to PM!
Hier eine Auswahl der Bilder
FIGURE ADD ONS

Assorted adventurers and Adversaries from our last Crowdfunder, never available on Kickstarter before!

All minis include scenic resin bases at relevant sizes.
ACCESSORIES ADD ONS

When is a chunk of scenery also a piece of essential tabletop gaming hardware? When it's a three-dimensional ruined stone hut that doubles as a tray to keep your combat dice from scuttling all over the rest of your scenery. This 125mm square tray matches the rest of the Rubble City.range and is cast in the same hard-wearing resin as we normally use. Save vs Spillage!

Based on a museum piece, this hand-finished resin dice cup will add a themed rattle to your rolls and guarantee* more Crits. (NB Criticals not guaranteed)

Shipping

POSTAGE COSTS ARE NOT INCLUDED IN YOUR PLEDGE and will be calculated after the campaign, during the backer survey stage. It will be dependent on final weight/volume of your base reward and any add-ons you may have chosen. Parcels (UK) will be mainly sent by tracked/signed-for services through Royal Mail – delivery times will vary according to country of final destination. ROW and EU Pledges will be addressed at time of Shipping, using either couriers or EU partners.

Based on previous KS experience, regular shipping of parcels all over the world, and being able to check finished parcel weights, we're confidently estimating (postal price increases notwithstanding) that this will add between £10-40 per customer for tracked/signed for mail, with highest costs being applied to overseas and/or large pledges.

Broadly speaking, parcels (depending on volume) should fit within the following ranges:

UK £10-20

EU/Europe £10-30

USA/ROW £15-40

All final postage costs will vary on weight, volume, and World Zone.

Fenris Games is not liable for any customs or handling fees you may be charged by your country on import of your reward(s).

EU BACKERS:

We're making Best Endeavours to ensure EU backers won't be unduly penalised because of UK trade decisions. Wherever possible we will ship from within the EU, which should avoid additional customs and handling fees.