Firestorm: Updates und Pläne
Wall of Text! Spartan Games haben Informationen zum Stand der Dinge im Firestorm-Universum veröffentlicht.
Hervorhebungen im Text durch Brückenkopf Online:
Welcome to this update on Spartan Games' Firestorm Galaxy as I detail our plans for the next year and beyond.

The first thing to address is the major changes that have impacted both our Firestorm Armada and Firestorm Planetfall miniature games, changes which we did not fully explain to our customers. I would therefore like to start with an apology for our poor communications as we reshuffled development, and putting that to one side, I want to now move forwards and explain the important changes we have implemented and what that means for our exciting sci-fi setting this year and beyond.

I am going to discuss the games separately, but I would very much like to reinforce that one of the most important changes we have made is to fully integrate our plans for Firestorm Armada and Firestorm Planetfall. Allowing these games to be developed independently of each other prior to 2017 didn't work well for the games.

Key Dates – Firestorm Armada

For a while now we have discussed the idea of version 3.0 of Firestorm Armada. During 2016, we reset our development work and whilst this cost us time, and sadly led to friction in our online forum, the new process we have implemented has now allowed us to now accelerate Firestorm Armada 3.0 development. I am therefore hugely pleased to be able to announce that Firestorm Armada 3.0 will ship by no later than August 2017, along with a raft of new Firestorm Armada models.

As you have recently seen, we have released our first 7 blisters of new Marauder spaceship models for Firestorm Armada. This is an initiative led by Spartan Josh Linde, who manages our Vanguards Program. He is most keen that before we roll out Firestorm Armada 3.0 to you we will have created all models for which statistics have been already created. It is a great plan and we are working with Spartan Josh in the creation of any outstanding models along with giving the Marauder PDF [the older version of which is available from our downloads page at www.spartangames.co.uk] an update.

Important Note: The Marauder PDF is being updated for the current 2.0 version of our rules which will allow players to get their models easily to the table top. When Firestorm Armada 3.0 arrives, the new rulebook will incorporate our Marauders as a core part of the rule book.

There are other products in development for the core Firestorm races, driven by the new 3.0 rules, but our initial focus with Firestorm Armada right now is the completion of all Marauder spaceship models first. This essentially gives us a completely blank canvas for Firestorm Armada 3.0 to move forwards with.
Key Dates – Firestorm Planetfall

Of our two sci-fi games Firestorm Planetfall is the game with which we have let its fans down the most.Our intent was to have created Firestorm Planetfall 2.0 for you long before now, but we failed to do so. A major error on our part and my heartfelt apologies to our customers over this. We appreciate the continued support gamers have shown Firestorm Planetfall and I'd like to now detail our plans for the game.

Let's take a look at our plans:

April 2017 – we will provide players an insight into the design of Planetfall 2.0 moving forwards by supplying a sample first Force List [Directorate and Works Raptor] along with a brief synopsis of rules changes that players of the original Firestorm Planetfall game can expect. Both of these documents are intended to stimulate discussion and encourage players to suggest developments that they would like to see in the game. This document will provide gamers with an insight into our new Firestorm Planetfall 2.0 rules.

Important note: a major improvement in Firestorm Planetfall 2.0 comes from the way forces (Helixes) are created. The current restrictive way of purchasing models is changing and the first stage of this will see the current Planetfall models being repackaged. This process has started and will be rolled out in the coming weeks.

Check out our upcoming Planetfall Update Blog, written by Spartan Derek, which discusses the Directorate/Works Raptor Force List.

May 2017 – we will provide players with a full list of ALL testing Force Lists for the core 6 races (and first 6 alliances that are incorporated within their respective aegis) along with a synopsis of the rules changes at their beta-stage. These will be delivered in PDF format. This is when our new Alpha Team locks the game rules down and moves to final testing.

Check out the May Firestorm Planetfall 2.0 Rules blog for more details on our rules reboot.

June 2017 – we will deliver our final testing Force Lists along with a full synopsis of the rules changes in their final stage. This will be delivered in PDF format. This work will be further reinforced with battle reports from testers to illustrate the new Firestorm Planetfall 2.0 rules.

August 2017 – Spartan Games will release a free PDF copy of the Planetfall 2.0 rules, along with full statistics for all models currently in play AND trial-statistics for models that are not yet available, such as the Saurians and Pathogen. This will allow the gaming public to test-drive the rules and engage with us in a positive way before the book is printed in hard-copy. In addition, we will release a free copy of the Spartan Games Force Builder App for Firestorm Planetfall 2.0 – those of you who have been testing the Halo part of that App will know what to expect!

Important note: This is a busy month for the Firestorm Galaxy as we roll out both Firestorm Planetfall 2.0 and Firestorm Armada 3.0!

Beyond August 2017 – when the Firestorm Planetfall 2.0 book is fully locked down we will print it and we will also roll out our new Firestorm Planetfall sets. This will set the scene for the game moving into 2018 and beyond.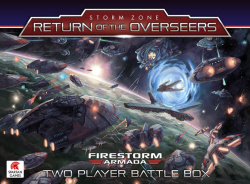 Connected Development

As I commented on earlier the fact that the two games were developed independently of each other was a mistake. Simply being in the same Galaxy was not enough. To this end we have taken our key game designers and shuffled them about to create consistency for our customers, and our goals are:

A single point of communications – internal and external – to streamline information delivery
A single point of development ownership
A common development language for rules and concepts across all products in a setting

What this means for the Firestorm Armada 3.0 and Firestorm Planetfall 2.0 is that Derek Sinclair [Spartan Derek to those who know him] has now assumed control of developing our sci-fi games. He has moved away from other projects, such as Dystopian Wars, and his task is the unification of our Firestorm games.

An example of this move for unification is the new Command & Control rules for FA 3.0. A major element of the new rules has been the ability to define the characteristics of a race, and to model them before, during and after a game. This generates a much more tactical game and is central to Firestorm 3.0. This is also now a central part of Firestorm Planetfall 2.0, with a common framework of rules and language that will allow players to easily embrace common Command & Control across both games. You will hear much more about this as we unveil the new rules and statistics to you.

From a messaging point of view, Spartan Derek will become the single point of contact for players, and he will coordinate the flow of ALL information about the Firestorm Galaxy. This will result in a dramatic change in the way we manage social media, which we will outline over the coming weeks.

Spartan Derek will unveil a blog and a set of forum posts which will detail our plans for communications moving forward. As a small company our intent is to fix our online interaction with you. Components of this will see our Facebook page become much more of a place where you can learn about Spartan products, both shipping products and those in development, and our Forum will become a location where our developers can better interact with our game audiences.

In Summary

To finish with I would like to say that I am personally very excited by the new design process and I'd like to thank both Derek Sinclair and Josh Linde for stepping up to the plate and replacing me in the design side of Spartan Games. Without their stellar effort, we could not have moved forward with development. With both games now back on track I can work with my 3D designers on future models.

And to you, our Firestorm customers, I appreciate your support through an intense period of time and I can't wait to see you all playing the new versions of our games in August 2017!

All the very best,
Spartan Neil
Zu Firestorm Armada gab es von Derek dann bereits eine ganze Liste mit genaueren Ankündigungen:
Hello All!

Spartan Derek here.

This is a follow-up blog to Spartan Neil's earlier communication to you all regarding the changes in our organisational structure here at Spartan Games.

As of now, all design and deadline execution of all projects for Firestorm Armada and Firestorm Planetfall are my responsibility – designing rules, answering queries, hitting deadlines for creation, etc. After this, Spartan Neil and his guys then take over to put things into 'pretty text' for us all, but this cannot happen unless I and my team do our job.

The following article is intended to give a degree of clarity to everyone as to how the Firestorm Galaxy will be managed here at Spartan in the future and (more importantly for you all) so you have visibility of what you can expect over the coming months!
STRUCTURE FOR DESIGN IN THE FIRESTORM GALAXY

Here is the breakdown of the structure that is now in place for all aspects of design: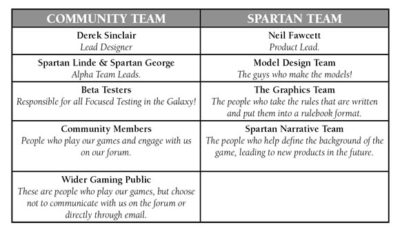 Previously the flow of communication from Spartan HQ has been less than adequate for our community, however I hope that as we move forward with our new structure I can remedy this by encouraging a positive and regular information flow from all persons listed above.

WHO AM I?

For those of you who don't know me I've worked on all Spartan products starting with Dystopian Wars 1.5 and the expansion of the Factions past their initial Core 4 (KoB, PE, FSA and EoBS) to take in no less than 600+ models. I and my team wrote the initial campaign books for Dystopian Wars (starting with the Hurricane Season Supplement), I worked on Firestorm Armada 2.0 with Chris Worth to bring the initial rules to the public, rebuilt the Dystopian Legions rules, designed the Planetfall rules in their concept drafts, created Dystopian Wars 2.0 rules with James Flack, created the Halo Fleet Battles and Ground Command game engines, and recently finished the Dystopian Wars 2.5 rules and campaign system with the help of Spartan Josh Le Cheminant.

…. basically if you have played any of our games over the last 6 years my fingerprints have been all over them!

Of course, everyone must start somewhere, and for me it was here, on this forum – some golden oldies amongst you might remember me as Delboy! I began by posting tactics articles for Boarding in Dystopian Wars, then moved on to writing articles about other games where I looked at their core principles and broke them down into learning steps for other gamers. This brought me to the attention of Neil and Spartan, who eased me into the fold to assist in the creation of their Beta Teams. Soon I found myself leading them, and now today I find myself as the Supreme, Chief Oompa-Loompa, Grand Overlord of the Firestorm Galaxy….<gulp!>

If you would allow me to take off this heavy crown and toss it at the hat-rack for a moment, I will tell you all flat out, that this isn't something I would have looked for – indeed it's something akin to painting a target on my chest given the current climate on the forums, but I hope that if I approach this challenge with the same positive, open-handed and deadline focused attitude that I have always had when talking to Spartan and our gamers, my positivity will win over the doubters to the point where everyone can judge the progress and communications as they are now rather than by what has gone before.

I would like to take this opportunity to thank Neil for allowing me to step in to bring both games under the one aegis and am sure that as we move forwards we will have a positive and regular dialogue with our gamers as we move the Firestorm Galaxy forwards.
FIRESTORM ARMADA MOVING FORWARDS

So, what does this all mean for Firestorm Armada!? Well… let's have a look at the Firestorm Armada time-line for completion in games-design this year:

NOW!
Alpha Team Testing is ongoing for 3.0. All new game mechanics are locked down and testing is moving at pace.

May 2017
Alpha Testing ends and Core Rules are then revised based upon their feedback. The Beta Team are unleashed on the rules and provide their feedback to Spartan Linde and I.

June 2017
Core Rules are presented to Spartan Neil to begin the rules-pour into a nice shiny book layout. At this point, YOU, the Firestorm Gamer will have a chance to comment with each of the Core-6 Factions getting cut-down version of their Force List, along with an expanded rules synopsis of changes – see below.

August 2017
Brand new models arrive with statistics and rules for the factions within and previously mentioned 'shiny rulebook'. The rulebook will also contain a revised version of Taskforce, and a Campaign System known as Flashpoint (similar to the Dystopian Wars 2.5 version, but more expansive, given the nature of the Galaxy it is being played in!)

August-September 2017
All Core Factions within Firestorm Armada are placed into a living rulebook format that can be adapted every quarter.

October/November 2017
All Alliance Factions in the Firestorm Armada Galaxy are placed in a living rulebook format that can be adapted every quarter. Timeline for the next quarter starts with this release (…meaning that in 3 months' time the stats will be reviewed and updated). Our goal here is to perform a continual rolling quarterly review to ensure we keep model balance under tight control.

December 2017 onwards
With the community fully engaged in the formation of the games, the Galaxy can move forwards, with new models, scenarios, campaigns and narratives developed under a more focused framework.
SPARTAN NEEDS YOU

The important thing to bear in mind with all of this is that I and my teams can only do so much. A game is only as good as the community that supports it and I very much want our players/gamers to be part of the process. This shouldn't be a problem as in my experience Spartan Gamers are positive and engaging individuals. They PLAY our games with a passion…of course I accept that passion can easily become jaded if not correctly channelled or encouraged, something that our previous limited level of engagement has exacerbated in my view.

I hope that everyone who is a Firestorm Gamer will move forwards with us to become part of something positive – a new stage in the development of the Firestorm Galaxy. A game based upon gamer-gameplay and feedback. Fuelled by positivity and a willingness to contribute our collective time and experiences. Built into something we can all be proud of.

CORE RULES CHANGES IN FIRESTORM ARMADA 3.0:

As you would expect, the move to any 3.0 ruleset requires a degree of innovation to prevent the game from becoming stale. Firestorm Armada is almost 9 years old, having first hit your tabletops in November 2009, and some concepts needs revisiting when viewed under the current gaming climate. Other mechanics are so core to the game's function that they must remain no matter what! Here are a few changes we are making to 3.0 that we believe complement and improve the game rather than overhaul the system entirely:

Command and Control – This becomes a vital component of the game with players purchasing Command Points as part of their Force Lists. These points allow players to fire more accurately, performs repairs with surety and execute manoeuvres that put incredible stress on their vessels! The costs for these points are done contra to a Fleet's Tactical Bonus, meaning that those who are less tactical in mindset are represented with a bonus in their strategic thinking instead! This will also allow us to give each race a unique feel and personality.
Range Band Notation – We have changed the Range Bands to be Points Blank, Short, Medium and Long Range…. No numbers have changed, but it is needed when other aspects of the new rules are used.
Creation of Core Weapon Types – The new game allows for the creation of Core Weapon Types categorised as being either Primary (removing the existing rules for Primary Weapons), Secondary or Tertiary in nature. These have individual rules that apply when using Command Points giving players a greater tactical and strategic control over their battles. The naming policy allows us to create move weapon types within the current framework of the rules – Primary Torpedo Batteries, Tertiary Broadsides, etc. Various rules regarding the roll to hit and likely Power Rating (see below) are also allocated depending on the Weapon Type.
New Ship Classifications and Sizes – We needed to give the game space to grow. We have therefore looked at how we define and classify ships and looked at how to expand the ships we can make for you. The current system is quite restrictive, meaning that previously making more vessels within the game ran the risk of repetition – this new classification system will address that to allow consistencies to appear. Frigates for example will be split into Heavy, Standard and Light Frigates, with a degree of statistical consistency existing within the Ship Classes and Sizes.
New Crit Table(s) – The new Crit table allows for a fairer distribution within the 2D6 spread, and gives us the opportunity to create a Focused Table within the Standard Critical Table that deals with Targeted Strikes and Boarding Actions. This type of table exists in Dystopian Wars 2.5 and works very well. Re-setting the table also allows us to reduce the number of tokens used in the game, as well as altering certain rolled Effects to ensure that those who aren't affected by the general result (e.g. if they don't have shields… a vessel instead suffers some other type of disadvantage instead!)
Removal of the AD-Degradation System – Feedback from many Vanguards and others who have taught the game to countless people over the years led to Spartan Neil to ask me to look at the AD-reduction that comes about through damage being applied to vessels. At present, we are testing a couple of design paths, most notably the creation of a Power Core Statistic for each vessel along with a stated Power Rating for each weapon….as the ship takes damage their power output reduces at the same rate, meaning the player must decide which weapon they wish to fire on a heavily damaged ship! This is a very different way of doing things, but one that has us all most excited.
Short Range Spacecraft (SRS) – These have undergone a number of changes, mostly prompted by feedback from the Alpha Team and Vanguards. At present SRS are very powerful, and our current rules have them used more directly rather than allowing them to loiter in the middle of fleets. This leads to a tactical duel in SRS rather than them being used as persistent PD blocks. It also enables us to move away from our simplistic tokens to something far more pretty on the tabletop. Those of you who have seen out Halo Fleet Battles Mini-Models that use the Micro-Dice will have an idea of what I mean.
Boarding – These changes are the most pronounced from the previous game. We have removed the possibility of capturing ships as the rules as written were very wordy, essentially a vestigial layover from the original 1.0 rules. Instead we have focused the Boarding Action to be a Special Forces (Spec Ops) Raid rather than a Massed Boarding Assault, using the Focused Crit-Table as a launch point for the damage mechanics. This is intended to give players the feeling that they are launching their forces at a specific part of a ship (the weapons arrays, the shield generators, etc.). Boarding will also no longer be a one-stop-shop, and so can be launched numerous times (assuming a ship has enough Crew Points of course!) – This will allow boarding to be a tactical choice for some fleets without feeling overpowered or underpowered… it should simply facilitate the engagement of the Fleet in general.
OVERVIEW AND CONCLUSION

All in all, the rules add more to the core framework of the game without overburdening the execution for players. This should allow us to play with more models, or play our existing points levels in less physical time.

I have created a Post in the Firestorm Armada Threads on the forum for those who wish to discuss the game as it moves forwards. You can find the thread here:

I hope everyone will join me there to talk about the game we love!

Cheers, and thanks for reading this very long article,
Spartan Derek
Man darf gespannt sein, wie und ob Spartan Games das wirklich umgesetzt kriegen.
Quelle: Spartan Games