GW: Adepticon 2023 Preview Teil 2 – Warhammer AoS
Im Rahmen der Adepticon 2023 haben Games Workshop wieder eine umfangreiche Warhammer Preview gezeigt, im zweiten Teil zeigen wir den Ausblick auf die Reiche der Sterblichen von Warhammer Age of Sigmar mit den Seraphon, Untoten, den ersten Miniaturen der Cities of Sigmar und der neuen Erweiterung für Warhammer: Underworlds, Wyrdhollow.

The Full Might and Majesty of the Seraphon is Revealed

After a slow trickle of saurian standards, scorching artillery, and skink seers emerging from the spawning pools, the prehistoric patience of the Slann Starmasters has run out. Now is the time of scale and fang, celestial magics, and cold-blooded might.

Just as prophesied by the Old Ones, the Seraphon will come to dominate the Mortal Realms.
Battletome: Seraphon brings with it a mighty host of lethal reptilian warriors. Let's begin with some Saurus Warriors riding terrifying new mounts.

Aggradon Lancers
The primal howl of Ghur's rage has hatched ancient eggs held long-dormant in the sacred ziggurats of Itzl. The powerful aggradons are vicious beasts that only the toughest of saurus can tame.

These thundering shock cavalry can break through the sturdiest enemy lines, tearing into their terrified foes with foul-tempered drooling bloodlust where other cavalry would get bogged down.

Saurus Scar-Veteran on Aggradon
These lances of lizards are led by prodigiously skilled Scar-Veterans mounted on aggradons. The most violent beasts require a truly formidable rider – and such warriors master their mounts with a single-minded dedication to the Old Ones.

Lacking the truly vast experience of the ancient Oldbloods, Scar-Veterans are nevertheless ruthless commanders who understand how to harness the natural ferocity of aggradon and saurus alike.

Kroxigors
Saurus Warriors might have been working out, but the new Kroxigor are absolutely yoked. Their hulking forms tower above the skinks who often accompany them into combat, where they pulverise foes with drakebite mauls and colossal moonstone hammers.

Kroxigor Warspawned
Kroxigor Warspawned are a spawn-breed marked by the wrathful god Sotek. Once a rare sight, the Era of the Beast has seen the arrival of more and more Warspawned – battle-bred brutes who are barely functional outside of combat, requiring skink attendants to clean and feed them. Should anyone lay a finger on their devoted assistants, these crocodilian killers fly into an apoplectic rage.

Seraphon Army Set

You'll be able to get your first taste of the new Seraphon with an army set, which contains a Slaan Starmaster, 10 Saurus Warriors, five Raptadon Chargers and five Raptadon Hunters – though you could build two units of either variety!

You'll also get a special edition battletome with its own cover art, a pack of warscroll cards featuring every Seraphon unit in the new battletome, and a set of 52 enhancement cards to help you execute the Old Ones' plan with impunity.

This treasure trove of tooth and claw will be coalescing before the rest of the range, giving your first taste of Seraphon supremacy.

t's not too long to wait before the spawning pools are at maximum capacity and cosmic reinforcements arrive. Battletome: Seraphon will be along in the summer, after two new battletomes for Grand Alliance Death. We may even hear a whisper of these upon the Shyshian wind soon.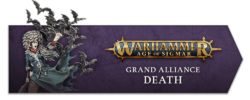 New Ossiarch Bonereapers and Soulblight Gravelords Heroes Rise From their Graves

The many armies of Nagash are inexorable. The rich (if faded) tapestry that makes up the Grand Alliance of Death comprises a wide range of the undead and less-living, from deluded cannibals and tormented spirits to martial legions assembled from bodies felled in the endless cycle of war.

The Bringers of Death are to be reinforced with renewed unholy vigour, as vampire dynasties and necromantic constructs return to the fray.
The Soulblight Gravelords and Ossiarch Bonereapers both have a bone to pick with the mortals of the realms, even if the savagery unleashed in the Era of the Beast has allowed both of these very different undead hosts to collect their toll of blood and bone.

It's a grave situation, but this is a great time to be a fan(g) of all things undead… Alright, enough with the puns and on to the reveals.

Mortisan Ossifector
The cadaverous constructs that make up the Ossiarch Bonereapers are designed and realised by the bone-crafting Mortisans. Of this artisan class, the Mortisan Ossifectors are dedicated to creating the most complex and formidable war machines – from lumbering Gothizzar Harvesters and Morghast Achai to terrifying Mortek Crawlers.

These ingenious engineers develop their craft even during battle, using their sorcerous skill to augment and refine their creations, protecting them from harm and granting them grim modifications.

Battletome: Ossiarch Bonereapers

These cunning artificers are the latest addition to the disciplined ranks of the Ossiarch hosts. Katakros and his underlings have been busy refining their tactics, sharpening their nadirite, and practising their magics to conquer the Mortal Realms for the Supreme Lord of the Undead.

We'll hear more about these sedulous soldiers of bone and their systematic approach to warfare soon – but now for something a little more rough and ready.

Ivya Volga, The Outcast

The wolf-lords of the Vyrkos dynasty run in packs, hunting their prey across the realms with supernatural skill. However, not all of these noble vampires are so enamoured with their bestial kin. Ivya Voga prefers the humble bat over the revered wolf, her rejection of tradition marking her as an outcast.
Ivya roams the realms alone, hunting hulking behemoths with the help of her beloved woodsman's axe and her loyal swarm of needle-fanged bats.

Battletome: Soulblight Gravelords

This bellicose beast-baiter is the latest addition to the vampire dynasties in Battletome: Soulblight Gravelords. This book contains extensive rules for each of the major dynasties – the feral Vyrkos, the monstrous Avengorii, and noble Kastelaii, and the esteemed Legions of Blood and Night. On top of that, there's also a Warscroll for the Askurgan Trueblades, the ascetic vampires found Bloodhunt, the most recent expansion for Warcry.

While the Ossiarch Bonereapers may bring efficiency and structure to bear, the Soulblight Gravelords exercise lethal charisma and saunter into battle, commanding innumerable hordes of shambling dead and bloodthirsty beasts.

We'll be taking a look at their updated rules in the future.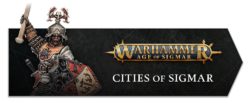 Get Your First Look at the Human Soldiers of the Cities of Sigmar

In the Age of Sigmar, immortal warriors clash with inconceivable horrors, gods wander the earth, and towering behemoths stalk the realms. There is much for a lowly mortal soul to fear – but by their faith in Sigmar these ordinary warriors brave the battlefield regardless, fighting alongside myths and monsters to win glory for Azyr.

Yes, after a year of Dawnbringer Previews, the men and women of the Cities of Sigmar are mustering.
Here they are, the brave souls forging their destinies in the mud, ash, sand, and soot of campaigns across the Mortal Realms. These are the regular, redoubtable foot soldiers who make up the armies of the Cities of Sigmar. While they might all be in uniform, the human footsoldiers of Sigmar's armies are far from uniform, pulled from all the free peoples and cultures of the realms.
A blend of classic elements and new designs, these are the humble soldiery of the God-King's cities. These free peoples are clad in rugged, hard-wearing armour displaying their devotion to Sigmar – we've seen one of those shields before.

These valiant warriors still have preparations to make, blades to sharpen, and many miles to march. As the year progresses, we'll have more miniature reveals from the Cities of Sigmar range for you to peruse before they are released.

It's at about this time that Warhammer Age of Sigmar fans start to wonder what the rest of the year looks like. We've prepared a roadmap for what's coming in the next few months.


Carve a Path to the Heart of the Wyrdhollow in the Latest Warhammer Underworlds Box Set

Beneath the writhing vines of the Gnarlwood, acrobatic aelves battle neurotic knights – but drive deeper, for there is more to find in the hidden heart of that carnivorous forest. Far below the hungry trees and blood-soaked ground, wood becomes flesh and voracious roots seek sustenance from arcane treasures in the eerie root-halls of Wyrdhollow, the next setting for Warhammer Underworlds.
The rapacious gullet of the Gnarlwood has eaten much over the years, from wandering warbands to artefacts gnawed from the Ravening Ruin of Talaxis. Those who invade its arboreal guts will wade through the half-digested detritus of years as they fight over powerful heirlooms and mysterious technologies in the next instalment of the ultimate competitive miniatures game.

This box is packed with everything you need to get started, whether you're a Warhammer Underworlds veteran or a brand-new player. That means miniatures, boards, dice, and tokens, as well as four complete Rivals decks intended to be played right out of the box. Just open, shuffle, and play!
Domitan's Stormcoven are a trio of Knights-Arcanum from the Valedictor Temple who charge into battle surrounded by a binding corona of coruscating power. These are some of the best-looking Stormcast heroes yet – clad in stormstrike armour, you can feel the arcane energy crackling off them. They scour the realms for arcane knowledge to aid in Sigmar's struggle – and the Wyrdhollow is absolutely stuffed with suitable trinkets, not to mention a brewing magical apocalypse…
Their opponents are Ephilim's Pandaemonium, a cabal of daemons summoned by the mysterious Ephilim. This sorcerer, once apprenticed to a Gaunt Summoner, is obsessed with cataloguing daemonic creatures. They seek to turn the Wyrdhollow into a nexus of creation magics, a cauldron that will spawn new daemon-breeds of infinite variety.

Both warbands make great use of magic, hurling coruscating bolts at each other as the sorcerous energy of the Wyrdhollow swirls around them. You'll learn how to control them with a comprehensive rulebook included in the box, which introduce new rules like Stun, Barge, Hex, and Salvage. We'll cover these rules in detail in future articles, so keep an eye out!

Alongside their respective Rivals decks, you also get Toxic Terrors and Seismic Shock, two universal Rivals decks which open up new strategies for your warbands. Those who are feeling adventurous can use the Nemesis rules to mix these sets with different warband decks, and explore the wider world of deckbuilding in Warhammer Underworlds.

More information about Warhammer Underworlds: Wyrdhollow will be coming soon.
Warhammer: Age of Sigmar ist unter anderem bei unseren Partnern Fantasy-In und Minyarts erhältlich.
Quelle: Games Workshop