World of Wrath: Kickstarter läuft
Es gibt wieder Fantasy-STLs auf Kickstarter.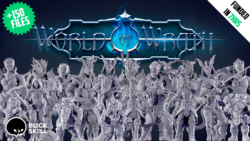 The world began to change in such a subtle way that its inhabitants did not bother to do something to reverse the damage, and when they tried, the destruction was already happening too quickly. The races united in isolated fortresses that protected the flora and fauna that still grasped to life, and also bodies of water that were worth more than any treasure in the new world.

Decades passed and each fortress managed to stop the destruction of what they protected, and prevented the growth of the desert inside the fortresses. A cruel desert that occupied a significant percentage of the planet and that for years threatened to engulf them, in what they called the era of the Wrath of the world.

The brutal years they faced led them to wear masks as a means of survival. With them their enemies could not see their faces full of fear and hunger, and they could not see the look of their rivals similar to their own, detaching the heart from the hand that carried the weapon.
Die Größen:

Stretch Goals:
Die Kampagne läuft noch 25 Tage.
Quelle: World of Wrath