Takkure: Relaunch! Kickstarter
Der neue Takkure-Kickstarter ist gestartet!
Und darum geht es:

New Teams:

These two new teams arrive in Takkure with new abilities, playstyles, and plays.

In the pledges you can choose one of them or both.
Das sind die Pledges:
These are the possible pledges, you can see what includes each pledge level. You are able to modify your contribution at any moment.
Und das sind die Stretch Goals:
These are the stretch goals that are being unlocked as the contributions for the campaign increase. The more money we have, the more presents and improvements you receive. There are different sorts of improvements: some of them are free and other are add-ons or improvements for some materials.

 – The pledge of 1€ does not include stretch goals
Add-ons:
Ein Link zu den Regeln (Klick aufs Bild):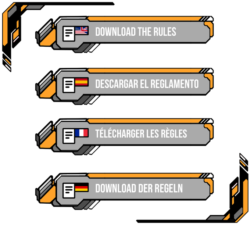 Und ein paar bemalte Minis:
Und das Shipping:
Shipping

Due to the present situation the shipping prices may vary depending on the land. After discussing that with the company, we have found more suitable to provide a price range.

We have adjusted these prices as much as possible taking into account that the box is small and the weight won't be superior to 2kg.

Thinking on the shipment we have not included add-ons to the campaign that could increase its price.

Freight costs are not collected during the Kickstarter campaign, but added at the end via the pledge manager.

There is the possibility of collecting the pledge in the Takkure World Cup. We will activate this option in the pledge manager if possible.

Taxes

Taxes are included in all prices.
Die Kampagne läuft noch 6 Tage.
Quelle: Takkure: Relaunch!