Snap Ship Tactics: Preview
Modulare Raumschiffe zum selber bauen!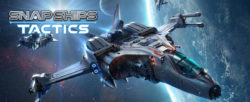 An Entire Universe Of Building And Battling Awaits!
SNAP SHIPS TACTICS is a revolutionary miniatures battle game where you play with modular, fully customizable ship models.

The best ship is the one you design!

Play VS. CO-OP, or SOLO against each other or AI opponents as you engage in fearsome futuristic combat, piloting your hand-built custom spacecrafts.

Do You Have The Tactics To Prevail?

BUILD a custom ship from scratch and equip it to fit your play style.

Choose from a library of parts, each with their own stats and ABILITIES!

DETAILED minis are assembled using the quick-to-build yet high fidelity Snap Ships system.

The Combinations Are Endless.

Choose a unique configuration from hundreds of parts available for one of two factions then snap them together to form a solitary fighter or a squadron!

Want to get to the action quickly with lethal templated crafts? Try a convenient build guide.

How will your chosen parts support yourstrategy? How will your ships synergize? Explore the options. Seize command.

Use Power Cubes generated by your ship's chassis to activate distinct ship parts that provide thrust to engines, fire weapons, and perform evasive maneuvers.

Each part has its own Parts Card which adds functionality and options to every ship. Take the helm.


The Battle Is Raging Across The Tabletop. What Will YOU Build?
Quelle: Snap Ship Tactics