Battle Buddies: Determination Kickstarter läuft
Das Team von Battle Buddies ist mit einem kleinen Kickstarter gestartet.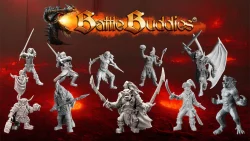 Hello dear miniature friends,

I am Michael Bauer and have been an enthusiastic fan of fantasy miniatures since my youth. I started collecting, assembling and painting miniatures. Since I was missing something with many models and they did not always meet my expectations, I initially tried to modify them. But that wasn't the end of it. So it came later to the first attempts to model miniatures themselves. I found that I really enjoy it and that I can finally create the characters that I would like to have. When I had built up a small assortment of monsters, I founded my company Battle Buddies in 2015.

Now I want to show with my first Kickstarter that my company is developing and now also offers miniatures in 28-32 mm scale. I would like to give an insight into the quality of these wonderfully detailed Battle Buddies miniatures. All models were hand sculpted by myself and are cast by the pewter foundry Schilling-Figuren. Only the 3D miniature Marissa was modeled by the amazing artist Andrei Lanes.

Since I've  been an enthusiastic player of fantasy games for a long time, I had the idea of developing my own game in which self-sculpted miniatures are integrated. After a few years of development, my first miniature board game "Varonea" was created, which I am currently promoting.

My goal is to get through the kickstarter, partners and funds to get this game launched. I would like to thank all the enthusiastic supporters and wish you a lot of fun with my miniatures.

Rewards

All figures are cast in white metal, are unassembled, unpainted and come with a 25 mm base.
Stretchgoals
Once the stretchgoals are open, the add ons will also be available.

Shipment

Participation does not include shipping and customs fees. According to our calculations, the following shipping fees result for insured transport, which we use exclusively:

Germany: 6 €
EU: 11-15 €
Rest of the world: 21-43 €

However, the stated costs may vary from country to country. After a successful campaign, all supporters will be contacted. For all supporters, the shipping costs are calculated individually and it is decided after the campaign whether it is handled via Paypal or a Pledge Manager.
Die Kampagne läuft noch 26 Tage.
Quelle: Battle Buddies – Determination