Pack of dogs: Kickstarter läuft
Let slip the dogs of war!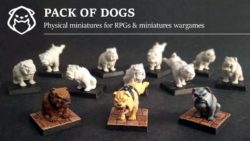 Welcome to the Kickstarter campaign Pack of Dogs! These miniatures are an alternative addition to your favorite miniature wargames, or any role-playing game.

This is my first crowdfunding campaign & I want to be sure to meet the deadline without delays so it will be a small production with limited units.

With your help, a limited run of up to 75 packs of three war dogs miniatures will be created, supplied as unpainted in thermoplastic resin.

You can check the size of miniatures below:

An example of the painted miniatures:

Die Pledges:
Add-ons:
Exclusively for this campaign, these dices have been created you can add to your pledge. The total quantity is limited (75 sets of two D6 dices) and each backer can add up to 5 sets of dices:

Shipping:
Certified shipping with tracking number to:

SPAIN 5€
REST OF THE WORLD 8€
Die Kampagne läuft noch 2 Wochen.
Quelle: Pack of Dogs auf Kickstarter