Moonstone: Arising Preview
Zu Moonstone kommt eine neue Erweiterung.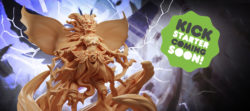 The Arising Kickstarter

Coming 5th June 2021

We are very excited to announce that Goblin King Games will be returning to Kickstarter on the 5th of June 2021 with a brand new Kickstarter – The Arising!

Amongst other goodies, the Kickstarter will include a brand new 176 page expansion book titled 'The Arising', a Campaign Card Deck and a Kickstarter exclusive limited edition miniature – Diana Enraged!

The Arising Expansion Book

The 176 page Arising expansion book features:

Campaign rules for Moonstone!
Minor in-game rules expansions and clarifications around terrain and elevations, removal from play, running out of cards and optional game-play variants.
50+ Pages of narrative that progress the Moonstone storyline and reveal dark secrets in what seemed like a once peaceful land.
10 New Scenarios to expand your casual and narrative play.
Rules and biographies for 55 characters including some that are currently unreleased.
A miniatures gallery and dozens of in-game action photography.
Brand new full page art and some whimsical surprises you will have to wait until the book is in your hands to discover!
70 Campaign Cards
Campaign cards are the successor of Events & Agendas cards of old. They are designed to add drama and variety to games as well as  a handicapping mechanic to keep campaign games closely fought until the very end. There are cards for all three factions as well as special Elrich machinations that can be used by any faction in campaign games only.

36 Upgrade Cards
One of the best things about campaigns is seeing your beloved Troupe develop and that's exactly what you will be able to do thanks to a brand new card type – Upgrades. Casual players will also love the new list building challenges unlocked by these cards.

Diana Enraged

Backers of this Kickstarter will get an Exclusive Limited Edition 'Diana Enraged' Miniature.

This miniature can be used in a special scenario included in The Arising book using a super-powered stat card supplied with the miniature, or simply as an alternate sculpt for a standard Diana Queen of the Fae in your competitive games.

This miniature is cast in just 4 pieces and while her Fae body is small and dainty, with the inclusion of her truly epic scenic base, this miniature will tower above the lesser races on the tabletop.
Falls euch Moonstone nichts sagt, empfehlen wir das Video von Tobi!
Quelle: Moonstone