Deadzone: 3. Edition Preorder
Mantic Games kündigen die 3. Edition von Deadzone an.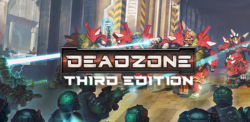 CONTAINMENT PROTOCOLS ANNOUNCED…
The best sci-fi skirmish game is about to get better. Over the weekend we announced Deadzone: Third Edition and it's coming sooner than you think. Heading straight to retail from October 25th, this is promising to be our biggest Deadzone launch ever… with a new starter set, rulebook pack, terrain, minis and lots, lots more.
NEW TWO-PLAYER STARTER SET
The new two-player starter set is absolutely PACKED with Deadzone goodness. Featuring the courageous GCPS facing off against the insidious Veer-myn, the starter set is the perfect introduction to the game. Includes all of the below:

Rulebook pack (core rulebook, force lists book and token sheet)
Starter leaflet
10x GCPS Troopers
1x GCPS Hero
10x Veer-Myn Nightcrawlers
2x Veer-Myn Nghtmares
1x Veer-Myn Hero
12 bags of Battlezones scenery, including the all-new Battlezones Street Accessories
Paper Gaming Mat
8x Command Dice
8x D8

The starter set is crammed with 12 bags of fantastic hard plastic Battlezones scenery, including the all-new Street Accessories pack. This can be used to give your gaming table a cyberpunk vibe, as the you fight through the streets of Magnetar Central.

NEW RULEBOOK BUNDLE

If you're a Deadzone veteran and just want the new rules, don't worry because we've got you covered with a fresh rulebook pack. We've spread the rules over two gorgeous books full of new art, lore and, of course, rules!

Core Rulebook – this is where you'll find all the rules, scenarios, keywords and a campaign mode
Force Lists – this is where you'll find the stats for all 10 factions

The bundle also comes with an updated token sheet. If you'd like to hear about some of the changes in Third Edition, watch the video below or keep checking the Mantic Blog.

NEW MINIS
Over the coming months, we'll be releasing brand-new models for ALL the Deadzone factions. Admittedly, it may take us a while but new stuff is coming. We're starting with some reinforcements for the two factions featured in the starter set: GCPS and Veer-myn.

NEW STARTER SETS
We're also revising the existing starter sets and boosters to make them more affordable and easier to collect. At launch we'll have new starters for GCPS, Veer-myn, Asterians, Enforcers and Forge Fathers.

NEW TERRAIN!

Want to give your Deadzone table a fresh new look? The Deadzone Terrain Booster comes packed with hard plastic terrain, including the all-new Street Accessories set.
ENTER THE DEADZONE

Deadzone takes place in containment zones – cities or whole planets that have been erased from planetary maps and left for dead. You control an elite team of soldiers ready to enter the potentially lethal Deadzone and scavenge for whatever lucrative resources you can find. But competition is fierce, and other Strike Teams will be out to thwart you on your mission. Get in, get out, get rich, or get dead.

CINEMATIC, IMMERSIVE GAMEPLAY

Deadzone uses an innovative cube-based system for movement and shooting. Throw your tape measures in the garbage because you're never going to need them again! Apart from DIY, of course. Models can be moved anywhere in a cube, which ensures you can make the best use of cover and obstacles to avoid the enemy, and movement takes seconds, rather than minutes. Shooting is just the same – measure the distance in cubes and, if you can see it, you can shoot it! Wargaming has never been this fast or cinematic.

MORE THAN 5 YEARS OF RULES DEVELOPMENT

Since the release of Deadzone: Second Edition in 2016, we've been refining the rules to make them faster and more streamlined. Third Edition incorporates all the changes and improvements made in the previous Outbreak and Escalation supplements, along with a host of other refinements. This is the Deadzone you love… just better. If you've never played before… well you've just found your new favourite game.
TWO BOOKS TO RULE THEM ALL

We've split the rules across two books that are packed with art, pictures and more. The core rulebook contains all the rules you need to start playing, along with campaign rules and 16(!) scenarios. Meanwhile, the Force List book contains the individual profiles and stats for each faction, along with details of how to build your Strike Teams and a handy weapons guide… after all, you don't want to take a knife to a Polaris Cannon fight.

10 UNIQUE FACTIONS

Deadzone features 10 unique factions to choose from:

Asterians – aloof aliens that use incredibly advanced androids and mechs to bring balance to the galaxy… no matter the cost
Enforcers – the ruthless army of the Council of Seven, used to stamp out insurrection and control the Deadzones with extreme prejudice
Forge Fathers – an ancient race of stoic dwarfs that use their incredible engineering skills to strip a planet of its resources and won't let anyone get in their way
GCPS – each corporation has its own private army who are often left to fend for themselves in the containment zones when the enemy dropships arrive
Marauders – piratical greenskins that travel the galaxy waiting to pounce on a Deadzone and sell their wares to the highest bidder
Mazon Labs – a corporation that has become obsessed with secret experiments that twist people into deformed monsters used as terrible 'field tests' in abandoned Deadzones
Nameless – humanity's greatest threat could be this mysterious race of semi-aquatic aliens that have been driven to conflict by religious fervour
The Plague – an insidious virus that spreads throughout the galaxy and turns its victims into ravening beasts that only have one purpose… to further the spread of the disease
Rebs – determined to fight against the seemingly tyrannical spread of the mega corporations, the Rebs are a mix of humans and aliens that fight from the shadows
Veer-myn – underneath sprawling cities or hiding in the dark corners of vast space stations, the Veer-myn are giant rat-like creatures just waiting to strike in order to protect their nest
Und das sind die Vorbestellungen:
Deadzone 3rd Edition Terrain Bundle –

€

160,00
The best sci-fi skirmish game is about to get better. Third Edition takes everything you love about Deadzone and turns it up to an exploding 8.

PLEASE NOTE THIS IS A PRE-ORDER AND WILL START SHIPPING FROM OCTOBER 25TH

Contents:

2 Player Starter Set including:

Rulebooks (softback)
Starter leaflet
10x GCPS Troopers
1x GCPS Hero
10x Veer-Myn Nightcrawlers
2x Veer-Myn Nghtmares
1x Veer-Myn Hero
Scenery
Paper Gaming Mat
Counter sheet
8x Command Dice
8x D8

Terrain Booster including:

Deadzone 3rd Edition Getting Started Bundle –

€

155,00
The best sci-fi skirmish game is about to get better. Third Edition takes everything you love about Deadzone and turns it up to an exploding 8. This bundle is great for beginners that want to upgrade the starter set with a neoprene mat, acrylic tokens and the plastic objectives.

PLEASE NOTE THIS IS A PRE-ORDER AND WILL START SHIPPING FROM OCTOBER 25TH

Contents:

2 Player Starter Set including:

Rulebooks (softback)
Starter leaflet
10x GCPS Troopers
1x GCPS Hero
10x Veer-Myn Nightcrawlers
2x Veer-Myn Nghtmares
1x Veer-Myn Hero
Scenery
Paper Gaming Mat
Counter sheet
8x Command Dice
8x D8

Additional:

Neoprene Gaming Mat
Acrylic Item Counters
Sci-fi Objectives Set

Deadzone 3rd Edition Two Player Starter Set –

€

105.00
The best sci-fi skirmish game is about to get better. Third Edition takes everything you love about Deadzone and turns it up to an exploding 8.

PLEASE NOTE THIS IS A PRE-ORDER AND WILL START SHIPPING FROM OCTOBER 25TH

Contents:

Rulebooks (softback)
Starter leaflet
10x GCPS Troopers
1x GCPS Hero
10x Veer-Myn Nightcrawlers
2x Veer-Myn Nghtmares
1x Veer-Myn Hero
12 bags of Battlezones scenery, including the all-new Battlezones Street Accessories
Paper Gaming Mat
Counter sheet
8x Command Dice
8x D8
Deadzone Terrain Booster –

€7

0,00
The pre-fabricated buildings that make up many human colonies and settlements are hard-wearing and built to last. They remain standing even when their occupants have fled or died as the result of being put under a Deadzone. This set includes all of the Scenery found in the Deadzone Two Player Starter Set, perfect for adding to your existing collection expanding your games!

PLEASE NOTE THIS IS A PRE-ORDER AND WILL START SHIPPING FROM OCTOBER 25TH

Contents:

Deadzone 3rd Edition Veteran Bundle –

€

65,00
Combining the Deadzone 3rd Edition Rulebook Pack, the Acrylic Item Markers and the Sci-fi objectives. The Deadzone 3rd Edition Veteran bundle has everything you need to upgrade from 2.0 to 3.0 using your existing strike team or if you want a whole new team.

Contents:

1x Core rule book (softback)
1x Force lists book (softback)
1x Counter sheet
Set of Acrylic DZ item markers
PVC Deadzone objective set

Deadzone 3rd Edition Rulebooks and Counter Sheet Pack –

€

40,00
The best sci-fi skirmish game is about to get better. Third Edition takes everything you love about Deadzone and turns it up to an exploding 8.

PLEASE NOTE THIS IS A PRE-ORDER AND WILL START SHIPPING FROM OCTOBER 25TH
Contents:

1x Core rule book (softback)
1x Force lists book (softback)
1x Counter sheet

Deadzone Gaming Mat Two –

€

35,00
This durable non-slip gaming mat includes a brand new detailed design for you gaming table and can be lined up with other mats for larger battles.

PLEASE NOTE THIS IS A PRE-ORDER AND WILL START SHIPPING FROM OCTOBER 25TH

Contents:

New Deadzone design 60×60 neoprene mat

Deadzone Forge Father Hold Warriors Starter –

€

35,00
When the Forge Fathers deploy their troops into a Deadzone, they are led by the greatest warriors of the hold. Venerable Forge Guard from the Lord's personal custodians and veteran Steel Warriors take to the enemy with a storm of magma fire and solid shot, going to any length to see their goals accomplished.

PLEASE NOTE THIS IS A PRE-ORDER AND WILL START SHIPPING FROM OCTOBER 25TH

Contents:

5x Hard Plastic Forge Guard
5x Hard Plastic Steel Warriors
1x Resin Forge Guard Huscarl

Deadzone Forge Father Brokkrs Booster –

€

35,00
The Brokkrs arrive to strip whatever profit they can from the planet. They're armed to the teeth, lest they run into any problems they can't talk their way out of. Once the Brokkrs have established the best places to exploit, they call in the heavy support to help them get it out and get clear.

PLEASE NOTE THIS IS A PRE-ORDER AND WILL START SHIPPING FROM OCTOBER 25TH

Contents:

4x PVC Brokkrs
1x PVC Brokkr Chief
1x PVC Bombbot & Operator
1x PVC Inferno Drill & Operator
2x PVC Valkyrs

Deadzone Enforcer Strike Protocol Starter –

€

35,00
The Enforcers' strike protocol relies on rapid insertion into to a combat zone in order to achieve a key objective, before withdrawing with equal speed. To this end, heavily armed jetbikes will clear the way ahead of a team of versatile highly-trained Enforcer operatives, who will execute their own orders with extreme prejudice.

PLEASE NOTE THIS IS A PRE-ORDER AND WILL START SHIPPING FROM OCTOBER 25TH

Contents:

10x Hard Plastic Plastic Enforcers
2x Hard Plastic Plastic Jetbikes

Deadzone Enforcer Insurgence Protocol Starter –

€

35,00
The insurgence protocol is intended for swift, surgical strikes far behind enemy lines. Pathfinders will highlight desirable targets for elimination followed by heavily armed and armoured Peacekeepers who move in for the kill. Dozens of targets can be killed before an enemy force so much as raises an alarm.

PLEASE NOTE THIS IS A PRE-ORDER AND WILL START SHIPPING FROM OCTOBER 25TH

Contents:

5x Hard Plastic Peacekeepers
5x Hard Plastic Pathfinders
1x Hard Plastic D.O.G Drone

Deadzone GCPS Recon Squad Starter –

€

35,00
Only the bravest – or the best-paid – soldiers join the recon operations. Often first into an active combat zone, these veterans identify enemy forces and fighting strength. The information that they gather is usually valued more than their lives and retrieval of active forces from a Deadzone is a rarity.

PLEASE NOTE THIS IS A PRE-ORDER AND WILL START SHIPPING FROM OCTOBER 25TH

Contents:

10x Hard Plastic GCPS Troopers
1x Resin GCPS Ranger Lieutenant
1x Resin GCPS Monocycle
Bases

Deadzone GCPS Urban Pacification Booster –

€

35,00
Most of the GCPS' deployments are within their own borders – supressing civil unrest or eradicating insidious alien incursions. In the tight confines of the city sprawl, troopers are equipped for close quarters. Shotguns and Suppressor shields, backed up with TAC drones yield reliable yet brutal results.

PLEASE NOTE THIS IS A PRE-ORDER AND WILL START SHIPPING FROM OCTOBER 25TH

Contents:

5x Hard Plastic GCPS Troopers
1x Resin GCPS Riot Police upgrade kit for 5 models
2x Resin Drones with weapon options for Heavy Laser Rifle, Missile Launcher, Auto Cannon and Communications Relay
Bases

Deadzone Veer-Myn Claw Pack Starter –

€

35,00
Claw packs are largely autonomous within the Veer-Myn hierarchy, free to take the fight to the enemy however their pack leader sees fit. This could be ambushing isolated enemy forces, or infiltrating communications hubs to sabotage vital equipment. In the end, it all furthers the goals of the nest.

PLEASE NOTE THIS IS A PRE-ORDER AND WILL START SHIPPING FROM OCTOBER 25TH

Contents:

10x Hard Plastic Veer-Myn Nightcrawlers
2x Hard Plastic Veer-Myn Nightmares
1x Resin Veer-Myn Pack Leader

Deadzone Veer-Myn Tunnel Ambush Booster –

€

35,00
Veer-Myn tunnels can honeycomb unaware colonies. These usually remain undisturbed until intersected by an unfortunate mining crew. The Veer-Myn run regular patrols of Tunnel Runners and Terrors through the networks to silence any such discoveries until the nest is ready to make itself known.

PLEASE NOTE THIS IS A PRE-ORDER AND WILL START SHIPPING FROM OCTOBER 25TH

Contents:

2 PVC Veer-Myn Night Terrors
1 PVC Veer-Myn Tunnel Runner
2 PVC Veer-Myn Progenitors

Deadzone Veer-Myn Brood Matriarch Booster –

€

35,00
The Brood Guard are a new class of Veer-Myn warrior recently identified by the ETCU. They are never seen apart from a Brood Mother and seem to not only be better equipped than other members of the nest, but also represent yet another physiological offshoot of the Veer-Myn. The cause of this forced evolution is still unknown.

PLEASE NOTE THIS IS A PRE-ORDER AND WILL START SHIPPING FROM OCTOBER 25TH

Contents:

1x PVC Veer-Myn Brood Mother
2x Resin Veer-Myn Brood Guard
2x Resin Veer-Myn Rat Swarms

Deadzone Asterian War Clade Starter –

€

35,00
The Asterians venerate the pursuit of universal balance above all else, their very society based around this concept. Their disdain of warfare and violence has led to the development of technology which allows their finest warriors to fight on the battlefield without physical risk, piloting sophisticated remote drones from orbit known as Cyphers which are as nimble and capable as a living being, with the added bonuses of far superior speed, strength and endurance.

PLEASE NOTE THIS IS A PRE-ORDER AND WILL START SHIPPING FROM OCTOBER 25TH

Contents:

5x Hard Plastic Marionettes
1x Hard Plastic Support Drone
2x PVC Plastic Weapon drones
1x PVC Plastic Cypher with Force Rifle
1x PVC Plastic Cypher with Missile Launcher
1x PVC Plastic Cypher Prime

Deadzone Asterian Matsudan Booster –

€

35,00
One of the few races to regularly treat and form pacts with the Asterians are the Matsudan. This ancient race of large, lizard-like creatures is thought to be almost as old as the Asterians themselves. They have a culture steeped in tradition and honour, so the actions of the profit-hungry corporations of the GCPS regularly come into conflict with the Matsudan's venerable sense of integrity. To say the Asterians exploit this animosity is perhaps harsh, but they certainly don't discourage it.

PLEASE NOTE THIS IS A PRE-ORDER AND WILL START SHIPPING FROM OCTOBER 25TH

Contents:

1x Resin Matsudan Toshiyori
1x Resin Matsudan Inashi
1x Resin Matsudan Sekiwake
2x Resin Matsudan Ozeki/Yokozuna

Acrylic Item Markers –

€

18,00
Taking advantage of the resources around you can be the key to surviving the harsh environment of a Deadzone. These hard-wearing acrylic counters are perfect for representing the items and equipment found in your games.

PLEASE NOTE THIS IS A PRE-ORDER AND WILL START SHIPPING FROM OCTOBER 25TH

Contents:

Set of Acrylic DZ item markers
Battlezone Street Accessories –

€

15,00
In the hyper-capitalist urban sprawls of the GCPS, consumers are bombarded with the neon glamour and bright advertising of dozens of corporations in every street. These systems continue to function long after they're abandoned inside of containment protocols.

PLEASE NOTE THIS IS A PRE-ORDER AND WILL START SHIPPING FROM OCTOBER 25TH

Contents:

Plastic Street Accessories
Sci-fi objectives –

€

12,50
Focus on the objective! This pack contains several detailed and exciting objectives for you to use in your games of Deadzone.

PLEASE NOTE THIS IS A PRE-ORDER AND WILL START SHIPPING FROM OCTOBER 25TH

Contents:

PVC Deadzone objective set

D8 pack –

€

10.00
A vital resource for any commander – this pack contains extra 8-sided dice for your games. Perfect for extra players or devastating weapons.

PLEASE NOTE THIS IS A PRE-ORDER AND WILL START SHIPPING FROM OCTOBER 25TH

Contents:

8x white 8 sided dice (D8)

Command Dice Pack –

$

12,50
A canny commander always makes sure that the odds are in their favour! These superbly crafted command dice will ensure that you are always taking the best opportunities for victory.

PLEASE NOTE THIS IS A PRE-ORDER AND WILL START SHIPPING FROM OCTOBER 25TH
Quelle: Mantic Games