Crooked Dice: Lurkers From The Deep Preview
Crooked Dice arbeiten an einem neuen Kickstarter und zeigen schon einige Previews.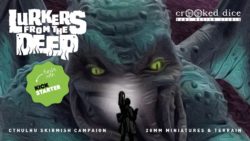 War movies meet Cosmic Horror in a new Feature Pack format for 7TV PULP! Play a Cthulhu cliffhanger serial that never existed!

KS BUILDING PREVIEW +++

Here's a sneak peek at the fabulous Sarissa Precision buildings that you can unlock in the Lurkers From The Deep campaign launching this Friday. Sign up here:

Sarissa have designed some iconic New England buildings for the key locations in the campaign: the Lighthouse; House of Dagon Tabernacle; Cannery; Boathouse; and the ruined clapboard Mansions and Houses.

These feature throughout the Lurkers campaign as heroic G-Men, GIs and Occult Agents face villainous Cult of Kutulu as they battle for control of decaying New England town of Marshport!

BEHIND THE SCENES

Work on Lurkers began in June 2019 as a work placement for two students from Edge Hill University who had both worked on 7TV: PULP – Isabel Tyldesley and Conor Dwyer. The team were joined by Dr Peter Wright, Jake Litherland and Callum France to help wrangle it into shape.

While the inspiration of the 'Raid on Innsmouth' hasn't really changed, a huge amount of development work went into finding the right story – and eventually the right format. A huge thanks is owed to the whole team for their creativity – and patience – as we eventually found the right fit!

SO WHAT IS A FEATURE PACK?

The Feature Pack format is aimed at introducing folks to the range of 7TV games with more traditional adventures/scenarios – with named characters and a cinematic storyline to work through.

But that's not to say there's not lots to enjoy for existing 7TV players – or for figure and terrain collectors! Through Kickstarter we are able to offer supporting miniatures and buildings to offer a full pick up and play campaign – with something for everyone.

Lurkers From The Deep is just the first of a new line of Feature Packs, with a number of others in development… so stay tuned!
Quelle: Crooked Dice auf Facebook