Creature Caster: Judgement und Atriarchs of Ruin
Von Creature Caster kommen gleich zwei News.
Zum einen bekommt das MOBA-inspirierte Arenaspiel Judgement unter ihrer Federführung eine kickstarterfinanzierte Neuauflage: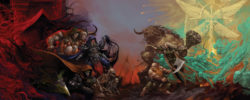 As a player, you will take on the role of whichever god best suits your play style. You will then assemble a warband from the vast assortment of unique heroes who will support your cause.
From there, brutal combat will ensue as you compel them to claim the effigy of whichever god seeks to thwart your divine plan. The accomplishments of your heroes will be rewarded with growing powers, abilities, and special artefacts to further your dominance on the battlefield. The Between is a volatile and challenging landscape, full of monsters and treacherous ground. Are you ready to guide your warband to victory?
Creature Caster and the team that brought you Judgement Version 1.0 are paving the way for an exceptional gaming experience with Version 2.0. Through various modern tools and constant engagement with the gaming community, the heroes of Judgement will maintain balance and playability. You can enjoy the freedom of choosing heroes to play based on any preference you have without fear of them growing old or irrelevant.
Collect and play heroes who are all rich with detail and character.

The personality and play style of each hero is quickly apparent through their hero class, character design, and varied abilities. Judgement is absolutely loaded with choice, so you can create the winning strategy of your dreams by assembling a warband of synergistic heroes who fulfill the roles that you need.

Hero classes and specific allegiances help you to understand a heroes' role and battlefield potential. Furthermore, they allow for quicker selection for those who have limited time for their skirmish matches.

AN ABSOLUTELY BEAUTIFUL GAME

Characterful heroes and impressive terrain bring the battle-ravaged Between to life.

Judgement boasts incredibly detailed miniatures that inspire the imagination. The Judgement Version 1.0 miniatures are all getting revamped and detailed by the renowned and experienced Creature Caster team. Their dynamic posing and immaculate detail will help to draw you into the world of the game.

THE FUTURE OF JUDGEMENT

Heroes are bound to the new gods and will serve for all eternity, or until their duties are deemed fulfilled.

In 2017 Judgement was a breath of fresh air for the tabletop wargaming scene; and now, with the collaborative efforts of Creature Caster, there is a bright and long future ahead. The team behind Judgement Version 1.0 will continue to do what they have done successfully, which is to maintain the balanced play of heroes and battlefield elements. Creature Caster will develop the world and character through beautiful artwork and high-quality miniatures. We are confident that your journey to conquer the battlefields of Judgement will be enjoyable and satisfying for many years to come.
Außerdem wurden neue Modelle angekündigt:
Atriarchs of Ruin – Unity
Ruin is Inevitable for All

Ruin cannot be escaped. It is inevitable, and beautiful in its unity. Perpetual loneliness is a powerful void; these three demons of Ruin seek only to welcome more beings of Ruin into existence. Alas, their hunger can never be satisfied.

Models will be sold separately, and also in a set that contains an exclusive Ruin infantry model (Child of Ruin).

Heralding a Promise of Unity

Harbinger of Ruin 

These winged, fae-like messengers of Ruin seek only to spread the word of Ruin's unifying power.  

Oh, how the Harbinger wishes to embrace all with the blessings of Ruin.
The clang of her slender bell signals to all: "Ruin is coming, Ruin is coming." But why do they flee? Do they not long to become a piece of the whole? With Ruin, there is acceptance of all, and one unifying purpose. All are welcome to the fold. Her bell rings, and her mallet falls upon those scattering before her. Again and again it falls. The result is not what she expected; the mewling flailing shapes she leaves behind were not the pieces of Ruin that she had hoped to create. But that is ok, there are so many more for her to indoctrinate… surely one of them will be beautiful like her.

Individual price: $27 CAD
Model is unassembled and unpainted. Intended for ages 14+.

Seeking the Connection of Motherhood

Bile Witch of Ruin 

Amongst the Atriarchs of Ruin, only the Bile Witches are able to transform the biological and spiritual components of mortal beings into new Children of Ruin (a task usually left to the powerful Queens of Ruin).  

The motherly need is never satisfied.
The Bile Witches desire to feel the connection of motherhood. They continually bring new Children of Ruin into their realm, but each parturition leaves them feeling more empty and alone. Their Children climb from their wombs before they have a chance to truly connect. The Bile Witches are left with a constant need to produce more and more Children in a desperate attempt to build a family.

Individual price: $27 CAD
Model is unassembled and unpainted. Intended for ages 14+.

Two Souls Longing to be One

Behemoth of Ruin 

Born of a desire to be one, these two stitched themselves together. But the monstrous result could not satiate their hunger for unity. They can never truly be one.

A tortured and uncomfortable connection.
The Behemoth is a lumbering brute that drags itself awkwardly across the battleground. Never acting in the blissful concert that it sought to actualize, it seems always at the point of pulling itself apart. Yet, somehow, its discombobulated flailing propels it towards the enemies of Ruin. The Behemoth smashes its way into the fray, cleaving and stabbing in a whirlwind of mad, uncoordinated violence.

Individual price: $27 CAD
Model is unassembled and unpainted. Intended for ages 14+
Quelle: Creature Caster