Mortian: Cyberrats Kickstarter
Mortian finanziert auf Kickstarter Weltraumratten.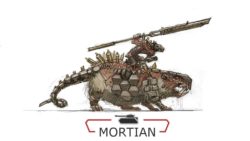 The wait is over … the Cyberrats arrived.

Over 20 highly detailed miniatures for your tabletop games or your collection. The first model is already sculpted. The others will follow after the Kickstarter. We will try our best to meet the sketches as close as possible.

Und darum geht es:
The models will be 3D printed and resin casted. The single parts might need some cutting, filling, grinding and /or bending. The parts are unassembled and not painted. A base is not included.

Safety instructions:

Resin dust is harmful when inhaled. Dust may cause temporary irritation  to the eyes, skin or respiratory tract. Accidental ingestion may cause  illness or irritation of the mouth and gastrointestinal tract. Avoid  generating dust. Fine resin dust dispersed in the air and sufficiently  concentrated near an ignition source is a potential dust explosion  hazard. Combustion may emit toxic fumes including carbon monoxide (CO).  Risk of inhalation can be mitigated by some of the following  precautions: Always wear a filter and safety goggles. When sanding  polyurethane resin use wet sandpaper to reduce airborne dust. Gloves and  a long sleeve shirt can reduce skin exposure. Always work in a  well-ventilated space.
If you experience any adverse reactions while sanding polyurethane resin contact a physician immediately.
Models are 3d printed with an high quality printer. This means no  warping of part, no seam lines and very fine details. It is recommended  to remove the support structure with a shartp pointy side cutter (Tamiya side cutter)  and then put the models in UV light (sunlight also works) for at least  one day to fully cure. Do not heat the models before they are fully  cured. After curing it is easier to grind away the attachement points of  the support structure.

Bemalte Modelle gibt es auch schon:

I don't get the chance to paint boxed art for companies that often. The turn around times are often really tight, but Mortian's ahead planning meant I could *just* about squeeze this in working in my free time. The sculpt sold it for me!

This piece is larger than you may think. It's about the size of a classic boxed dreadnought, or a little larger than a Games Workshop Ogre. The detail is exquisite, but you have eyes – you can see how cool of a sculpt this is.
Ein Video gibt es auch:
Der Kickstarter ist nahezu finanziert und läuft noch 24 Tage.
Quelle: Mortian Cyberrats