Elven Lords: The Queen's Duty Kickstarter
Last Sword sind wieder mit einem Kickstarter aktiv.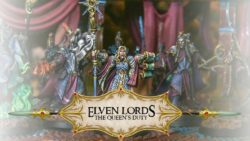 Elven Lords: Queen's Duty is a 32mm miniatures project, and our seventh campaign on kickstarter. It is a pleasure to be back once again. Welcome to everyone!

Queen's Duty models are compatible with most 28mm-32mm fantasy miniature games. Futhermore, we are also collaborating with The 9th Age project and Elven Lords models can also be used for their Highborn elves faction. You can download for FREE both The 9th Age rules and Highborn Elves army book.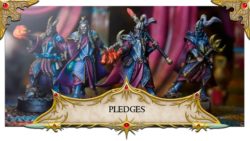 Check the pledges and select the one that is best for you. If the Pledge does not contain all of the items that you like, all them are avariable as Addons. If you want these Addons, take a Pledge and increase the amount of your Pledge by the cost of your desired Addons.

Remember that you can change your contribution as much as you like before the campaign ends. Once the campaign ends, you can modify your Pledge and Addons but the contribution amount cannot then be reduce.

Elven Lords: Queen's Duty miniatures are organizated in severals Pledges. After backers recieve their parcels, all miniatures will be avariable at LastSword.com but we are offering a discount to kickstarter backers. Furthermore these discounts are higher if you select an Early bird. Take your time and choose wisely.

1€ Only Add ons.

This Pledge is designed for backers who do not want any of our packs listed under.

If you want to take a few addons or scenery, just sum the total amount of them and support to us.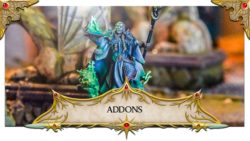 Take addons is so easy, just sum their values and add it to your kickstarter contribution. Remember, some addons are stretch goals too and you will take them for free.
Wir listen hier nicht alle Add-ons, es gibt noch mehr.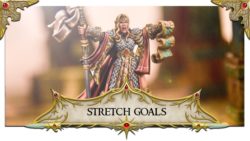 There will be additional free models as the campaign progresses through stretch goals! Support the campaign and reap the rewards!

Along the Pledge manager you will find our whole catalogue. But only the addons and pledges of this campaigns sum to check if you order is high enought to get stretch goals.

Congratulations! This Stretch Goals has been unlocked! All orders over 59€ (Shipping cost not included) will get a Everqueen miniature for free!

Congratulations! This Stretch Goals has been unlocked! All orders over 104€ (Shipping cost not included) will get a Queen maiden miniature for free!

Unlock this Stretch goal to obtain a Queen's Obelisk miniature for free with all orders over 104€ (Shipping cost no included).
Und noch Infos zu den Modellen:
All our models are printed in one of the best 3D printers of the market. We check each piece before to make any mold to be sure of the high quality of the models.

Plastic resin is a new material developed by Alemany Minitures . You have never seen something like this before (if it is your first kickstarter with us). Is not Poliurethane resin or resin from other companies as Finecast resin or Bones.

Miniatures crafted in plastic resin have unique features.

High detail miniatures.
High heat resistance miniatures.
Easy to glue. This materials is light and can be glued with cyanoacrylate glue (common glue for metal miniatures). No pin necessary.
Shock resistance miniatures. Our miniatures are soft enought to be blend if crash agains the floor or hit something. That provides a very long life to finest bits as spears. In the other hand you will not notice any different in the touch when you take them to paint or play.
Shape memory. If one of your bits is blended, it will back to their first shape.
Basecoat is not neccesary before painting.
Die Kampagne läuft noch 12 Tage.
Quelle: Elven Lords: The Queen's Duty