DieHard Miniatures: Kickstarter Preview
DieHard Miniatures planen einen neuen Kickstarter.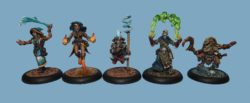 Hi Folks, we are now counting down to Diehard Miniatures 'Wizards and their Magics' Kickstarter, launching on June 25th!!
What are you offering I hear you cry?! Well in Diehards 6th venture into the Void we're offering something new, 'Wizards and their Magics' will not only have resin and metal miniatures for you to collect but our first game!! In the arena of Id you will be able to duel with friends pitching wizard against wizard, familiars will assist with their masters magic while elemental beasts bludgeon one another in an effort to reach the apposing sorcerer.
We offer 5 initial magic users in the funding level with a further 5 through stretch goals, familiars and elemental beasts will also we available. Their will be a rules set, gaming board and several counters for those wishing to test their metal! Thomas Foss of Skull and Crown has designed the rules and has been a great help! Also a big shout out for Kennon James who has brought his awesome art to this project!!
Whether you are interested in gaming or just miniatures this campaign should have something for all.
Quelle: DieHard Miniatures auf Facebook