Cool Mini or Not: Ankh
Cool Mini or Not haben ihr nächstes Projekt vorgestellt.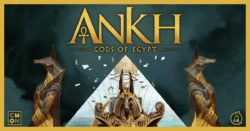 CMON is pleased to announce Ankh, a new board game from the mind of Eric M. Lang, award-winning designer of the smash hits Blood Rage and Rising Sun. Play as a God of ancient Egypt, competing to survive as society begins to forget the old ways, so that only you and your followers remain.

Ankh, the symbol of life itself, that even the Gods must fight for.

Build caravans, summon monsters, and convert followers in your quest to reign supreme. With great artwork by Adrian Smith and miniatures art directed by Mike McVey, who both worked with Eric on Blood Rage and Rising Sun, Ankh is the final installment of Eric M. Lang's strategic trilogy.

Deities, monsters, and the people of ancient Egypt have been lovingly reimagined and interpreted in beautiful illustrations and detailed miniatures, and players will truly feel like Gods as they shake the very foundations of Egypt. All gameplay in Ankh, including combat, is streamlined and non-random. Compete and win solely on your godly wits alone.

"It was amazing to 'get the band back together' for this game. It's always great to work with such phenomenal talents like Adrian and Mike", said Eric M. Lang. "We all really poured our heart and soul into this game. It's the finale of our trilogy of sorts, and we wanted it to really be something special. I'm really proud of what we've come up with and can't wait to see those grand figures battling on the beautiful game board."

Ankh is a game for 2 to 5 players and will be coming to Kickstarter in 2020.

Eric M. Lang Bio: Eric is an industry veteran, having created tabletop games for over 20 years. His history with CMON includes fan-favorite titles Blood Rage, Arcadia Quest, Bloodborne: The Card Game, and more. In 2016, Eric was the recipient of the Diana Jones Award for Excellence in Gaming, and other accolades include multiple The Dice Tower Awards and five Origins Awards.

Adrian Smith Bio: Adrian's career as an illustrator is prolific, spanning over 30 years. He was one the defining artists for Games Workshop's Warhammer 40,000 line, and his work with Wizards of the Coast's Magic: The Gathering is beloved by fans. He has illustrated popular CMON titles like Blood Rage, Zombicide Special Guest Artist boxes, The Others, and Rising Sun.

Mike McVey Bio: Mike is well known for his ability to produce some of the best miniatures around, with three decades of experience in the industry. His resume includes work for Games Workshop, Wizards of the Coast, and Privateer Press. Mike's figures for CMON include the miniatures in Blood Rage, The Others, Rising Sun and more.
Ever since it was announced last GenCon, fans have been eagerly awaiting the next installment in the legendary saga that began with Blood Rage and continued with Rising Sun. The same creative team, including game design by Eric Lang, art by Adrian Smith, and sculpts by Mike McVey, are proud to bring you ANKH: Gods of Egypt, coming soon to Kickstarter!

The gods that rule over Egypt can no longer share the devotion of the people. One by one, the gods must fall into oblivion, until only one will remain. Spread your forces across the land, build monuments to establish your dominion, reshape the land to your advantage, gain followers to increase your powers and get the support of powerful guardians. As the sands soak the blood in conflicts decided by both strength and cunning, each god will use their unique power to climb to the top of the devotion ladder. Will you be the one to achieve life eternal?

This is Anubis, the God of death, embalming, and tombs. Some of Anubis' main roles were guiding the souls to the underworld, and weighing their hearts against the truth, in the form of an ostrich feather. Only hearts lighter than a feather would ascend.

This is Ra, the light bringer, God of the sun and creator god. During the day, he traveled across the sky, and during the night, he went through the underworld

This is Isis, mother goddess, who provided protection and nourishment to both the living and the dead. When her husband was mudered and cut to pieces, she spared no efforts to find and restore his body. The waters of the annual flooding of the Nile were attributed to Isis's tears of mourning.
Quelle: Cool Mini or Not bei Facebook