Plast Craft Games: Fukei Terrain
Die Fukei Reihe von Plast Craft Games wird um neue Geländestücke erweitert, Mauern und Wachtürme für ein japanisches Setting.
PlastCraft continues to grow their ColorED range of terrain which includes a selection of pre-coloured pieces for a variety of games. The latest crop is for the Fukei line which works for Zenit Miniatures' Kensei and Torii.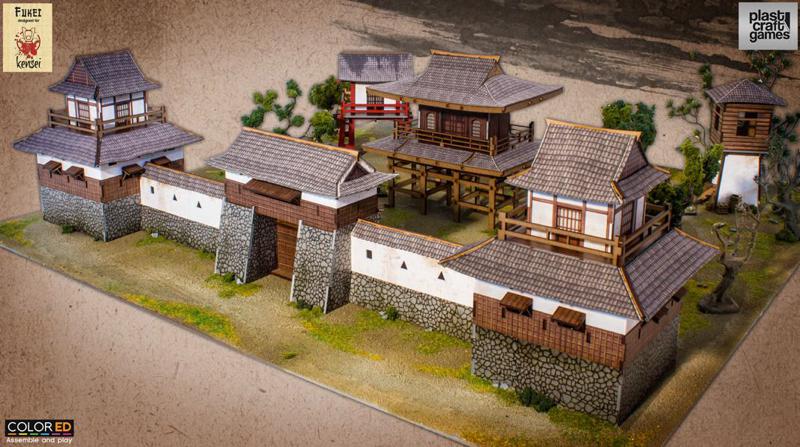 The collection includes a new series of tower-like structures as well as the massive wall that you see here and its gatehouse.

The wall, its towers and the accompanying gatehouse are some impressive pieces of terrain and really show how far PlastCraft are pushing things when it comes to their designs.

It's nice that you get some of the defensive sections of the walls interior in with the selection. They've also got some nice sloped and curved pieces included with this too to make sure that it doesn't look as boxy as you might have thought.

When included as part of a larger tabletop landscape, where you could cap the ends of this wall off with some rocky cliffs for example, you could create a fantastic place for a siege.

Tower Time

There are three different designs of tower that you will be able to pick up. Some of them are a little rustic looking like this one here. It could be a simple tower included alongside the side of a well-worn road by travellers.

This one here looks like it would fit in with the existing range that exists from PlastCraft. So, if you're looking to add some more defensive structures to a village or temple district this would be pretty good.

Lastly, we have this more open looking structure which is rather large! It could prove to be a good way to break up some lines of sight and offer up a few opportunities for rooftop combat too.

As mentioned before these buildings are useful for both the Kensei and Torii range from Zenit Miniatures so you can use them for both their skirmish game AND their mass battle range too. Walls work in both cases, and the towers could even work as objectives in a game with smaller forces.

Now all you need to do is work out the kind of tabletop landscape you're going to build around these towers and the wall. I like the idea of a rather war-torn battlefield, something inspired by the recent Ubisoft video game, For Honor, where you make these towers and the wall part of a desperate defence.
Plast Craft Games ist unter anderem bei unserem Partner Fantasyladen erhältlich.
Quelle: Beasts of War
Link: Plast Craft Games