Arcworlde: Kompendium angekündigt
Ein neuer Arcworlde Kickstarter wirft seine Schatten voraus.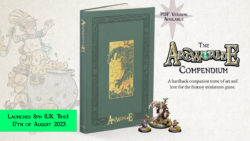 Hey folks! It's ArcWorlde's 10th Birthday today, and I'm very excited to announce my next project: The ArcWorlde Compendium!

https://www.kickstarter.com/…/the-arcworlde-compendium

The ArcWorlde Compendium is a hardback companion book of art and lore for the tabletop game. Filled to the brim with my illustrations of all of your favourite Factions and monsters, it's the perfect accompaniment to your miniatures. And if you don't fancy the bigger-than-A4 physical book, you could grab it as a PDF instead!

There'll also be some *very limited* Early Bird pledges available too, so be sure to be there when we launch at 8pm on the 17th of August 2023!

Can I count on your pledge?
Quelle: Arcworlde auf Facebook