WizKids: Demogorgon und Grüner Drache
Bei WizKids ist mit Demogorgon, Prince Of Demons geht ein weiterer ikonischer Charakter aus dem Dungeon and Dragons Rollenspielen in die Vorbestellung und ein erwachsener Grüner Drache ist erhältlich.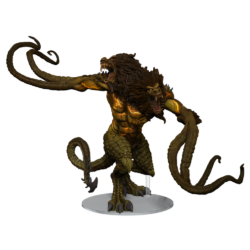 D&D Icons Of The Realms: Demogorgon, Prince Of Demons – 89,99 USD
This is a Pre-Order item and will NOT ship until the product release date.
Pre-Order release dates always subjected to change.
If you include Pre-Order items in your order, the entire order will be held until all pre-orders become available.
If you would like to receive each pre-order item at its release, please make separate orders for each item.

Prince of Demons, the Sibilant Beast, and Master of the Spiraling Depths, Demogorgon is the embodiment of chaos, madness, and destruction, seeking to corrupt all that is good and undermine order in the multiverse, to see everything dragged howling into the infinite depths of the Abyss.

The demon lord is a meld of different forms, with a saurian lower body and clawed, webbed feet, as well as suckered tentacles sprouting from the shoulders of a great apelike torso, surmounted by two hideous simian heads, named Aameul and Hathradiah, both equally mad. Their gaze brings madness and confusion to any who confront it.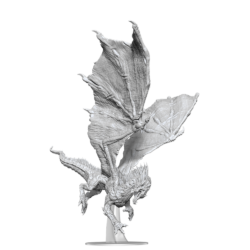 D&D Nolzur's Marvelous Miniatures: Adult Green Dragon – 89,99 USD
Dungeons & Dragons Nolzur's Marvelous Miniatures come with highly-detailed figures, primed and ready to paint out of the box. These fantastic miniatures include deep cuts for easier painting. The packaging displays these miniatures in a clear and visible format, so customers know exactly what they are getting.

Key Features:
– Features characters, monsters, and scenery from the Dungeons & Dragons universe
– Little to no assembly required
– Primed and ready to paint
– Some miniatures include translucent parts
Quelle: Wizkids