Spirit of the Forest: Kickstarter läuft
Ein neues 3D-Modell wartet bei Kickstarter auf Käufer.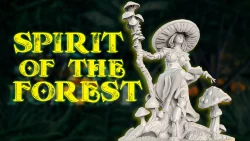 This Campaign Features

Unsupported .STL Files
Professionally Supported .STL Files
Lychee Files
Pre Split and Non Split Files
All Photos, Renders and Artwork

All files have been professionally designed, professionally supported and test printed.
Merchant License

All merchant licenses are lifetime licenses. There is no renewal or annual payment. At the end of the campaign you will receive an individual merchant code which is to be displayed in your shops or wherever you sell your prints.

File Delivery

All files will be delivered within 1-3 days of the campaign ending. They will be delivered via Kickstarter messages. Additionally, the files will also be made available on MMF and automatically added to your libraries.

Printer Settings and Extras

As part of the file delivery I will include all recommended printer settings, all the supported files, non supported files, lychee files, photos, renders, etc.

Check our previous campaign here:
Die Kampagne ist finanziert und läuft noch 21 Tage.
Quelle: Spirit of the Forest