Wyrdworld ReCreated: Kickstarter endet
Der aktuelle Kickstarter von Fenris Games endet bald.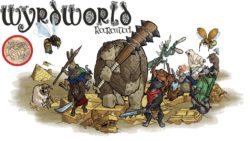 Hello! Thanks for coming along. This is our fifth solo project on KS and this time we're looking to produce a whole army of 28mm-scaled anthropomorphic models for you to use in any number of game settings and with any suitable ruleset. The origins of all these characters are back in our now-ancient PBM game Wyrdworld but they're equally suited to a wide range of TTGs and RPGs, and will absolutely work as beastmen proxies for any number of different wargames …

All 22 models in this campaign – can we Unlock more ?

Produced to the highest modern standards, cast in superfine resin for maximum detail, simplicity of building, and ease of shipping, these furry folk will make sure your next mutant animal warband is the best it can be.

Want just one model from the set? No problem. Customise your Pledge with any individual model(s) you fancy, or grab whole animal gangs and even an army.

Welcome aboard…

Pledge Levels:

In this kickstarter, you can choose from a number of one-click Pledges for different rewards – add any individual models to any Pledge by simply increasing your Pledge by that amount. Or you can customise your Pledge, picking just the models you want.

For example – to add Oscar and Lydekker to a GANG Pledge, increase your Pledge from £25 to £44 (25+7+12). If you only need Arsino and Smudge? Pledge 16+7 = £23.

Pledge at £1 to support this KS without a reward; or alternately if you want individual model(s) not covered in one of the Bespoke Pledges below. Just want Volx? Pledge at CRITTER and make your Pledge value £25. Not eligible for free Unlocked Rewards.

GANG pledges are for one of the three sets of five models – your choice between SCOUTS, BRUTES or RESCUERS will be made during the Pledge Manager, after the KS campaign ends.  Saving of £10 versus buying the models individually. You may add any other individual models by increasing the value of your Pledge to the relevant amount (eg. GANG:RESCUERS plus BJORNHILDA = 25 + 12 = Pledge of £37). Eligible for all GANG stretch goal rewards.

EXTRA PLEDGE REWARDS AT THIS LEVEL = Chicxulub bases, 1 per model

GANG pledge, SCOUTS option. Five resin models (Smudge, Newt, Smuts, Peri and Tommy)

GANG pledge, BRUTES option – Drebin, Musty, Hans, Fiddy and Blythy. Five resin models.

GANG pledge, RESCUERS option. Five resin models (Oscar,Terri, Dirk, Tod and Jack)
All fifteen gang models, plus Bjornhilda and Lydekker, and random bases selection

The FAMILY pledge gets you one of each of the fifteen GANG models, as above, plus both Lydekker and Bjornhilda. As with all Pledges, you may add any other models or sets to your Pledge by adjusting the amount accordingly. Eligible for all GANG stretch goal rewards.

EXTRA PLEDGE REWARDS AT THIS LEVEL = Chicxulub bases, 1 per model

All 22 standard models, plus mug, novel, bases and cycads

This is our all-in Pledge for this campaign – grabbing all 17 FAMILY models plus the 5 superheavies, our giant KS exclusive El Grande 15oz mug*, a copy of the Genesis novel, and any Unlocked GANG and ARMY rewards. At least £62 saving versus buying everything separately.

EXTRA PLEDGE REWARDS AT THIS LEVEL = Chicxulub bases, 1 per model; Giant Cycads set.
Die Modelle:
Infos zum Porto:
Postage costs will be calculated on completion of your pledge, during the backer survey stage of the campaign, and will be dependent on  final weight/volume of your base reward and any add-ons you may have  chosen. All parcels will be sent by tracked/signed-for services through Royal Mail – delivery times will vary according to country of final  destination. These shipping costs will vary greatly depending on the  weight/bulk of any add-ons you choose – but based on previous KS, regular shipping of parcels all over the world, and being able to check finished parcel weights, we're confidently estimating  (postal price increases notwithstanding) that this will add between  £5-30 per customer for tracked/signed for mail, with highest costs being  applied to overseas and/or large pledges. Broadly speaking, parcels (depending on volume) should fit within the following ranges:

UK £5-10
EU/Europe £10-20
USA/ROW £15-30

All final postage costs will vary on weight, volume, and World Zone. Guesstimating costs to the EU is enormously difficult, post Brexit.
Das Projekt ist EU-freundlich.
Die Kampagne endet in 48 Stunden.
Quelle: Wyrdworld ReCreated – 28mm anthro fantasy miniatures