Farm of Horrors: STL Kickstarter
Pünktlich zu Halloween läuft derzeit ein netter kleiner Kickstarter.

Hello Kickstarter! My name is Jamie and I sculpt models for 3D printing 😀

For this project I'm testing out a new direction I'd like to take with my Kickstarter campaigns, which is to create smaller themed sets of 3D printable models that expand in proportion to how much backing it receives. My goal being to more regularly release sets of models that help you create fun and immersive tabletop gaming experiences for every occasion.

For this campaign, Farm of Horrors!', the theme is a derelict farm and the evils that lurk within. The set includes creatures for an adventuring party to encounter, themed props to set the scene, and scatter to create obstacles for strategic gameplay.

Thanks so much for checking out my project, and an extra big thanks if you decide to back it! 

What's in this set?

Here's what I've made so far:
And possibly more…

For this campaign there is no planned content locked behind stretch goals. I will instead start adding more to the set if backing exceeds 15,000:- SEK (€1,500) by taking on suggestions for additions that fit the theme and let backers vote on what extra models I create. Maybe a werepig and a swarm of piglets, some ghost or zombie farmers, more living vegetables? more props? You decide!

See the campaign updates for the link to the suggestion form! 

More backing = more models for everyone, similar to what I did during the 'Arctic Pirates!' campaign.

Free Download!

Poor timing of this campaign means that these files won't be available to you before spooky season ends. So I'm giving away a couple models to give you the chance to incorporate them into your Halloween adventures, enjoy! 🙂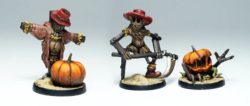 Pre-Supported?

Yes, the models you receive will come with pre-supported versions (for resin printers) along with the un-supported versions.
Die Kampagne ist finanziert und läuft noch 8 Tage.