Warhammer 40.000: Lord of Battles
Nach "The Macharian Crusade" und den "Genestealer Cults" hat Bell of Lost Souls eine weitere Spielhilfe herausgebracht, diesmal unter den Namen Lord of Battles mit dem Schwerpunkt auf Titanen und Apokalypse Datenbögen.
Die 16 MB Datei ist kostenlos und ihr benötigt einen PDF-Programm zum öffnen, wir empfehlen Foxit!. Lord of Battles umfasst neben den Datenbögen auch besondere Charaktermodelle und Szenarios. Auf 58 Seiten deckt dieses kostenlose Machtwerk fast 40 Kriegsmaschinen ab. Außerdem noch 6 besondere Charaktermodelle.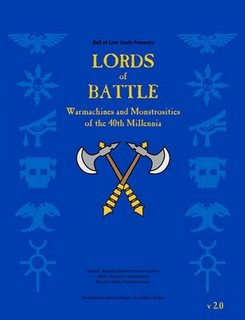 Quelle: Bell of Lost Souls