Vórtice Miniatures: Oyxlkrox Ancestors Kickstarter
Ein Fantasy Football Team mit Echsenmenschen kommt von Vórtice Miniatures auf Kickstarter.
OYXLKROX ANCESTORS

Fantasy Football Lizards Team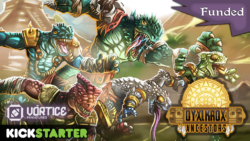 About

From Vortice Miniatures we started this funding campaign to launch the OYXLKROX ANCESTORS, a fantasy football team from the depths of the jungle to make feel the ancestral fury of the lizardmen in their opponents.

We need your help to bring these great players (and small skinks) to victory.

The team is composed by 16 miniatures, designed by Fran Cantos Design.

All miniatures are made in HD Resin.

FULL ROSTER: 16 miniatures (1 Kroxy, 6 Saurius and 9 Skinks) + Free Stretch Goals !!!
NO REPEATED MODELS: All models are different.
EASY ASSEMBLY: Only a few models need to be glue and the other come in 1 piece.
PRICE: Full team,with all its positionals…in HD RESIN for only 59-69 €!
BEST QUALITY: Always offering the best product and our best attention. 

Thank all the people who have worked for this campaign … Thank you very much for making this possible.

Design 3D by FranCantos Design

https://www.facebook.com/Fran-Cantos-Designs-1887383644709011/

painted by CHK Studio

Graphic design by Lanzastudio 

https://www.facebook.com/josedavid.lanzacebrian

Also thank Mony for her work with the assembly of the images.


 DESIGN 3D, CASTING, PAINTED




 YOU CAN ADD ANY OF THIS, ADDING THE AMOUNT OF THE ADD-ON TO YOUR PERK.


GRAVEYARD TEAM (16 Miniatures + 2 markers) OFFER PRICE!

UNDEAD TEAM (12 Miniatures + 1 marker) OFFER PRICE!

NECROMANCER TEAM (12 miniatures + 1 marker) OFFER PRICE!

OGRE TEAM (6 OGRES + 14 SNOTLINGS)

We ship to all the world. Shipping costs vary dependign of your location.

Spain: 5€ 
European Union: 12€ 
Rest of the World: 20€ 

Shipping costs are charged automatically.

Our delivery date is on September 2019. We think is a reasonable date, but we will try to speed up the process and with a little of luck we will be able to make all the shipments before the estimated date.
Risks and challenges

We have already made three teams (Undead, necromancer and Ogres), so we are capable to make this team without any doubt.
We can suffer some delay in production and shippping if campaign is very successful, but we are already working to accelerate the delivery time so that does not happen… We are commited with best quality miniatures. We want everyone have the best team possible and we work for it.
Die Kampagne hat ihr Ziel von 3.407,00 USD bereits erreicht und steht aktuell bei 5.192,00 USD und läuft noch 17 Tage.