Codename Colossus: Mk.I Cerberus Kickstarter
Bei Kickstarter wird ein 1:35 Walker finanziert.
The British Empire turned to light walkers later in the war than other nations. Their initial hopes was that their Heavy Siege Colossus and Infantry Support Colossus could win them a quick victory, but as the war dragged on, the need for a light reconnaissance Colossus became apparent.

Despite that the Mk.I Cerberus is still bulkier and with heavier armour than their counterparts from other nations. Armed with two Vickers machine guns and a 1.5 pounder Gatling gun, the Mk.I Cerberus, or "Campbells" as the Americans call them, can lay support fire for advancing infantry, and can defend itself adequately.
The Codename Colossus Mk.I Cerberus is a 1/35 scale model kit with 40 polyurethane resin cast and 3D printed parts, LED lights and a motor powered by 2x AAA batteries, and a British Colossus Crew Figure.

The kit requires assembly and painting. Modelling skills and tools are needed. No soldering required and 2x AAA batteries not included.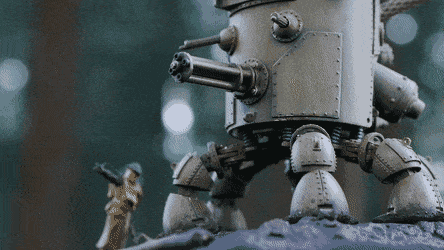 When assembled, this kit can stand a little over 5″ tall and wide.

Every leg has joints that can be independently posed. Hatches can be left open or close.

Some of the backers of my previous kits use their Codename Colossus kits for their science fiction tabletop wargames. While the height of the typical wargaming figure is a lot less than a 1/35 scale military modeling figure, because of the heroic proportions they are typically sculpted in, they do not look too out of place next to the hatches and doorways of the models.

+ VETERAN SCOUT FIGURE

Limited to this Kickstarter campaign, you get this 1/35 scale British Empire Veteran Scout Figure included in your kit.

This is a multi-part resin cast figure with the mechanical arm and the Lee Enfield rifle as separate parts.

DEVELOPMENT STATUS

The patterns for resin casting are all 3D printed and I am currently preparing them for resin casting. This stage is a lot of sanding and filing.

I have already committed with months of design and development time, and have started this project with my own finances. I believe in bearing as much risk for a project as possible so my backers can have more peace of mind. This project will be ready to go into production very soon.

The reason why I am running a crowdfunding campaign is that I need to gauge the level of interest in this product. Unlike large companies, I do not have the cash flow or storage space to order flexibly.

Resin casting and the soldering of the electrical parts are all made by hand and is labour and time intensive. As a small business, I do not have the customer base to support plastic injection moulding or printed circuit boards.

Having an idea of how many people are interested in the kits will help me a lot. So even if this month is a bad time for you, write a comment to let me know that you'll be interested in the kit in the future.
Das Pledge mit Walker und Veteran kostet umgerechnet rund 87 Euro.
Die Kampagne läuft noch 20 Tage und ist bereits finanziert.
Quelle: Codename Colossus Mk.I Cerberus mechanized resin kit