Mythos: Seekönigin Kampagne
Paranoid Miniatures veröffentlichen eine kostenlose Kampagne für Ihr Horror Skirmish Spiel Mythos.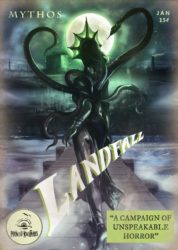 Hello everyone,

Well it has taken us a while to get the Sea Queen campaign to a standard we are proud of, we apologise for the wait and hope that you can appreciate that we have put in some real time and effort into this free downloadable campaign.

This goes all the way back to our first miniature and one which we promised would not only be a method for us to work through the processes of making miniatures but also have a campaign which she could be used in.

The Sea Queen was our first model and taught us so many lessons about scale, material, pose, art direction, art to model translation and any number of other things. She for us deserves a campaign designed around her and adapting and developing rules to field a demi god within our game has been a challenge.

You can find the link to the Campaign here.

We hope that you continue to enjoy playing Mythos and that this our first campaign sees you playing the long game so to speak, as you work through the story driven scenarios to a final bout where the fate of the world tips in the balance.

All the best

The Paranoid Miniatures Team.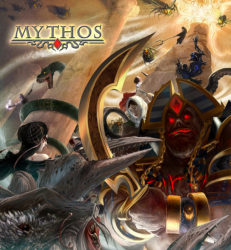 Wer noch nicht genau weiß, worum es sich bei Mythos handelt, bekommt hier noch eine kleine Beschreibung an die Hand.
Willkommen bei Mythos, einem von H.P. Lovecraft inspirierten Horror-Scharmützelspiel der 1920er Jahre.
In Providence U.S.A., einer Stadt wie viele andere, ist die Bühne für den ersten Kampf um das Überleben jedes einzelnen Mannes, jeder einzelnen Frau und jedes einzelnen Kindes der Menschheit bereitet. Ein Krieg kommt, wenn auch nicht wie der, der vor ein paar Jahren endete. Ein uraltes Wesen rührt sich in der Tiefe, etwas so Mächtiges, dass es die Menschheit im Handumdrehen auslöschen würde, wenn es erwachen würde. In diesem Scharmützelspiel werden zwei oder mehr Spieler an den Tisch kommen, um einen der Kernspieltypen oder eines der Story-Solo/Kampagnenspiele von Mythos zu spielen. Jedes Fraktionsmitglied ist einzigartig und kommt nicht nur mit seinen eigenen Statistiken, Mythosfähigkeiten und Eigenschaften, sondern auch mit einer zweiten Seite seiner Natur. Einige werden dies zeigen, wenn der Wahnsinn Einzug hält, andere werden durch bestimmte Effekte und Wechselwirkungen ausgelöst. Also, bist du bereit für die Herausforderung, den Kampf zu den Feinden deiner Fraktion zu führen, das Ziel über alles andere zu stellen und deine Verstandsschwelle zu überschreiten, bis alles, was du siehst, rot ist und der Wahnsinn dich nimmt?
Quelle: Paranoid-Miniatures auf Facebook