Macrocosm: Bonefields Preview
Macrocosm enthüllen ihr aktuelles Projekt "Bonefields" welches im Februar auf Kickstarter erscheinen soll.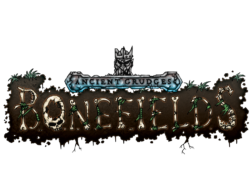 Bonefields, Coming February 2018.

The Ancient Grudge rolls on, Warbands of Undead Dwarves and Goblins continue the eternal struggle into the afterlife.

Take control of your Warband as you go raiding for resources, treasure and magic items to gain the upper-hand over your ancient enemies.

…
Bonefields will be coming to Kickstarter in February next year with a great little campaign looking to fund the main boxed game. Contents will include 2 Warbands with characters to lead them, a full colour rulebook with art and painting guides (by David Stafford), all the tokens and accessories you will need.

The rulebook will include complete Warband creation lists for you to tailor your forces, to create your own unique Warband to suit your playing style. From weapons to armour, creatures and heroes. There will be a set number of scenarios you can play through and a post game sequence that deals with character progression and casualties.

We hope you will enjoy playing this as much as we have.
In Bonefields bekämpfen sich untote Zwerge und Goblins. Das Grundset, welches auf Kickstarter finanziert werden soll, beinhaltet zwei Kriegerbanden die jeweils von einem Charakter angeführt werden sowie alle notwendigen Marker und Zubehörteile.
Here is the 1st look at some of the new range of miniatures we will be releasing with the boxed game. The full range is over 60 miniatures at the moment, with more being worked on all the time.Bonefields contains 2 full starting Warbands for both the Undead Dwarves and Goblins factions.
Neben diesen bemalten Previews sind auch einige Greens zu sehen, darunter die beiden Charaktere.
Bonefields – The Greens.

Seasons Greetings everyone. By now we hope you are all aware of our upcoming Kickstarter (February 2018) and have seen a selection of painted Goblin and Dwarf skeletons.

We figured we should share a little more of the upcoming miniatures with yourselves. We often dont share work in progress shots and bare greens for a few reasons, but the work that Alessio Cisbani has done on this project so far has been outstanding.

…
What we have below are the images of the greens for a Dwarf Wight, Dwarf Zombie Heads, and 2 Goblin Vampires (One of which is featured on the cover of the box and is included in the starting Warband).

We have posted a few castings off to David to work his magic on and look forward to seeing them on his blog soon.

We cannot wait to get these to the gaming table.
Quelle: Macrocosm auf Facebook