Court of the Dead: Kickstarter läuft
Ein neuer Brettspiel-Kickstarter läuft.
Und darum geht es:
Court of the Dead: Mourners Call is a 2-5 player, highly competitive board game that calls upon players to balance cooperative needs against their own ulterior motives. There are many paths to uniting the Underworld, but only one Mourner will realize his or her vision. The player who wields his or her power and faction influence the best will gain the most points to win.

You and your fellow mourners must work together to bring balance to the Underworld, but… only one of you can truly Rise, Conquer, Rule!
Das ist im Pledge genau drin:
Das Regelbuch kann man hier herunterladen: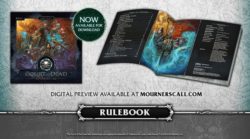 Stretch Goals gibt es auch:
Genau wie diverse Videos:
Zur Geschichte gibt es außerdem einen Comic:
Learn how The Underworld and the All Taker, better known as Death, came into power with the digital comic "The Rise of Death"…
Und das sind die Portokosten:

Die Kampagne läuft noch 21 Tage.