Bears Head: Wilderness Encounters Kickstarter
Von Bears Head Miniatures kommen allerlei wilde Tiere.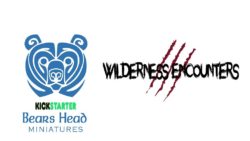 Hello, My name is Philip Hynes, I'm a miniature sculptor and I have been working on a selection of Wilderness Encounters Miniatures for my fledgling Bears Head Miniatures company. They're drawn from subjects I adore and I enjoy making. Hopefully you'll find some amongst them that will appeal to you too. Theyre initially designed for a fantasy RPG setting, but they may also work in a nature themed army or decoration, once painted.

The humanoid miniatures are 28mm scale, with the animals made to suit that size. All miniatures are supplied with a round plastic slotta base or flying base if appropriate. There is also plans for stretch goal resin scenic bases for some of the beasts, should they become unlocked.

I'll add more animal themed sculpts next weekend. If you'd like to see anything in particular, then I'd love to hear your suggestions. with an Orangutan, boar, Unicorn and Highland Cow en route.

The main objective of this campaign is to cover the cost of having the miniatures cast in metal or resin, as per the individual miniatures description. if it goes really well, then I hope to have a professional website for my Bears Head Miniatures store.

Without any further ado, here are the miniatures on offer…..

Regards,

Phil

Und das sind die Tiere/Wesen im Einzelnen:
Stretch Goals gibt es auch:

 Stretch Goal 1 Minotaur £8, UNLOCKED!!!!!

 Stretch Goal 2 Owlbear £12. Unlocked!
Stretch Goal 3 Highland Cow £5. Unlocked!
Stretch Goal 4 Scenic Bases for Shark and Owlbear £1 each. unlocked at £3200

Stretch Goal 5 Sasquatch Miniature £8. Unlocked.
Stretch Goal 6 Orangutan Miniature £4. Unlocked.
Stretch Goal 7 New Highland Cow and Calf Miniatures £7. Unlocked at £4000
Stretch a Goal 8 Highland Cow Minotaur £8. Unlocked at £4500.
Die Kampagne läuft noch knapp 2 Tage.