Street Fighter: The Miniatures Game Kickstarter
Der Kickstarter zum Street Fighter Spiel von Jasco ist online.
Und darum geht es:
Now the whole Street Fighter Universe is literally at your fingertips! What are you waiting for?!
We wanted to make our miniatures so good that even if you didn't play the game at all, your pledge would still be fully worth it for these impressive works of art alone – and at their Collectors Scale, they are wonderful pieces to display around your home or office!
Street Fighter: The Miniatures Game uses a unique scale, the brand new "Collector's Scale"! This giant-sized scale has your models large and in charge from 65mm tall all the way up to 85mm tall on some characters all on a standardized 58mm base! We will be offering this scale for all our future Universal Tactics System Games.

This size offers tons of advantages:

The miniatures are more like small collectable statues and makes them great for displaying around the house even if you don't play the game at all!
The larger the mini the better the pre-paint process, our pre-painted miniatures are simply the best the industry can currently offer, rivalling that of action figures and full sized collector statues!
Playing with larger miniatures on a board with 3D terrain gives amazing table presence when you pull this game out at any gathering! You'll be the talk of the town!
We believe its quality over quantity, why have buckets of tiny miniatures if they don't get played packed away in expansion box after expansion box? These miniatures will get a lot of table time as your sole representation on the battlefield!

Take a look at our featured miniatures video below!
Let us get a detailed look at each one of our fighters included in the Core Set!
Gelände gibt es in der Box auch:

Adding a NEW DIMENSION to Street Fighter!

Destructible Stage Terrain adds a new exciting element to the Street Fighter experience and it adds a new layer of strategic depth to the game as you attempt to out outmaneuver your opponent and set them up for extra damage!

Each round the terrain is reset and the fighter positions swapped as to offer an equal opportunity to both players, plus its just more fun to crash into more stuff. Smart awareness, positioning and baiting your opponent can easily win you the day!

Das Beta-Regelheft könnt Ihr hinter der folgenden Grafik herunterladen: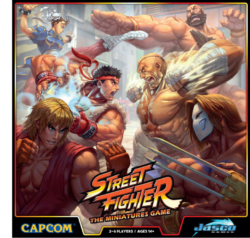 Add-ons gibt es auch:
If you would like to purchase any of these optional add-on's, please click the "Manage Your Pledge" button on this games Kickstarter Page and in the pledge manager add the total amount of the items you'd like to get to your total pledge. Our Custom Pledge Manager sent out later will then allow you to pick the specific add-on's you'd like before checkout!
Stretch Goals gibt es auch, aber noch keine konkreten:
Help Ryu on his journey to surpass all Stretch Goals! Each one we unlock is added to your pledge for Free! We've planned for 12 additional fighters & battle decks to be unlocked during the campaign! With all those unlocked you get TRIPLE the size of a Base Pledge at the Street Fighter Level! When this project gets funded we'll reveal the first leg of Ryu's journey through the Stretch Goals.
Sowie diverse Videos (logisch, schließlich ist Angry Joe Teil des Teams):
Die Kampagne läuft noch 30 Tage.