Tanks: Neue Releases
Für Tanks kommen schon bald allerlei neue Erweiterungen.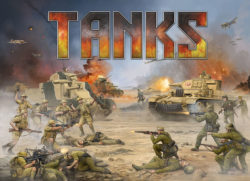 Across the sands of North Africa the Afrika Korps and 8th Army battle it out. German Panzers go head to head with British Grants, whilst the faster Honey and Crusader tanks rush the flanks. Prepare for the next wave of TANKS with new Heros and Equipment Cards, coming out in May/June 2017.

The Panzer IV was the most widely manufactured German tank of World War Two. During the North African campaign it was armed with either a short 7.5cm gun that was capable of lobbing a shell over friendly troops, or the long 7.5cm gun that could easily penetrate the armour of heaviest Allied tank.

Heavily armoured and mounting the massive 8.8cm gun the Tiger was something to be feared as no Allied tank could stand in its way. The appearance of the Tiger forced the Allies to return to the drawing boards and find new solutions to counter this heavy hitter.

The Panzer III is one of the iconic tanks of World War Two. Serving in the German army throughout the war the tank would be upgraded over time with larger guns and heavier armour. During the desert campaign in North Africa it was upgraded with a long 5cm cannon that was capable of knocking out any Allied tank.

The British army fielded over 2,500 US built Grant tanks during the North African campaign. Larger and more heavily armoured than the other tanks fielded by the British, it mounted a powerful 75mm gun in the hull. The Grant also had a 37mm gun in a small turret that could engage targets that the hull mounted gun could not.

The highly mobile Crusader tank was a mainstay of the British forces during the North African campaign. The high speed allowed the tank to fire on the move and strike at the weaker side armour of the German tanks, however when caught out in the open it could be easy prey for the heavier enemy tanks.

Known as the M3 Stuart in the American army, the Honey was first fielded by the British in North Africa. It picked up the unofficial nickname of Honey after a tank driver remarked "She's a honey". Like the British Crusader the Honey was liked by crews for its high speed and was used extensively as a reconnaissance vehicle.
Für alle Interessierten, haben wir hier noch ein paar Links zu alten Artikeln:
Quelle: Gale Force 9
Link: Warehouse Games