Rotten Factory: Warriors of the Dark Gods
Ihr braucht noch ein paar chaotische und eventuell teils kränkliche Krieger? Dann könnte euch diese Indiegogo-Kampagne gefallen.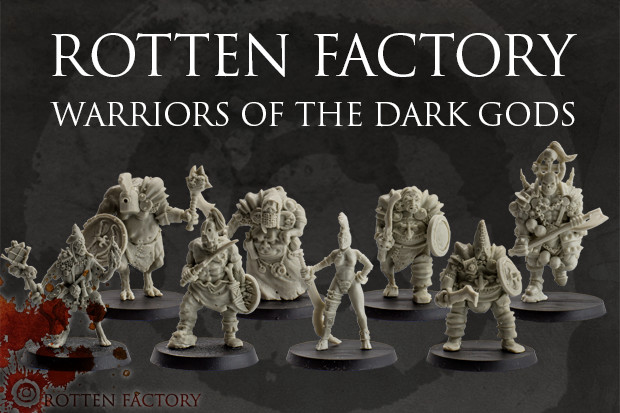 The main goal of the project is to raise funds for the realization of new figures from the new Rotten Factory line. Thanks to the campaign, I will be able to further develop, create more products and my models will enjoy not only me but also you!

Hello all.
My name is Pawel (PJG), and I would like to tell you in a nutshell why I decided to do it all. After 9 years collecting figurines I felt that something in my collection was missing, so I started filling this gap. This is how the idea of the dark and decay figurines came up – the Rotten Factory climate. Today, thanks to "indiegogo", I decided to share with you my passion and unique artifacts, to give you possibility to fill your collection with something that you have not had so far.

Buying Miniatures – How it works

If you buy a miniature (let's say signed by "A" mark), You will be asked for your choice after the campaign will end. The more people will take part in it the more different figurines will be available at the end of this project. An exception is the Rotten warriors pack set ("C"), which contain specific 9 miniatures.
Die Miniaturen für Perk A sind folgende:
Perk B:
Perk C:

Es sind zudem Stretchgoals eingeplant, wovon der 2.000,00 USD. etwas ganz großes bringt:
Das Ziel der Kampagne sind 500,00 USD. Die Kampagne läuft noch bis mitte Juli.
Link: Warriors of the Dark Gods auf Indiegogo