Iron Wars: Kickstarter Relaunch
Söldnerkompanien kämpfen in dem taktischen Brettspiel "Iron Wars" mit ihren Mechs.
Projektbeschreibung: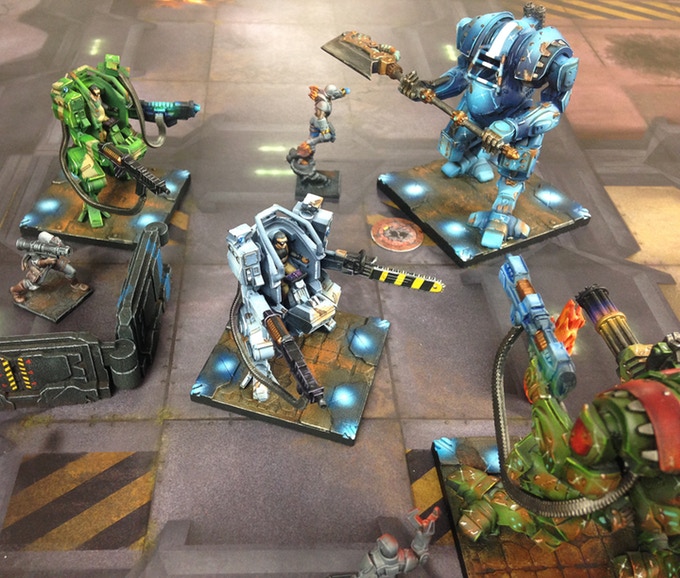 Iron Wars is a brutal tactical game utilizing Mechs, miniatures and interactive scenery for action-packed game play.

1-4 players (expandable to 5-6 players in competitive mode)
Co-op and competitive modes: Co-op with exploration map. 2 campaigns with 8 Missions each campaign and 8 short missions. Competitive with 10 pre-set Missions, Death Match and Arena modes.
Co-op Missions with Map generation, pre-set or Mixed Map.
You are a Mercenary company, select your Mechs and fighters, hire your mercenaries and improve your Mech to win.
Mechs: with these destruction machines, you can attack other Mechs and their pilots.
Available in English, Spanish, German, French and Italian: You'll be able to choose the language during the pledge manager phase, after the campaign ends.
Iron Wars Pledge:
Miniaturen:
Note: Mechs will be unassembled and unpainted. The rest of the miniatures will be pre-assembled or made of one piece and unpainted.

Iron Mechs height 70mm, Steel Mechs height 50mm and miniatures height 32mm.

ToraPaintingStudio painted all Mechs and Jesus Gomez painted rest of the miniatures.
Game Overview:
Iron Wars is a tactical game with Mechs of 70mm and 50mm, miniatures of 32mm, and scenery.

With 2 game modes:

Cooperative 2 campaigns with 8 missions each campaign and 8 short missions.
Competitive with 10 pre-set Missions, Death Match and Arena modes.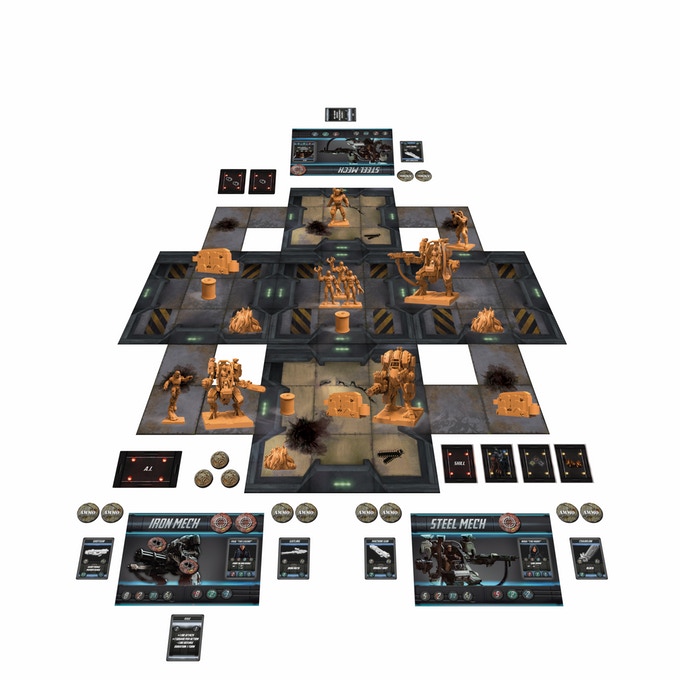 You have a mercenary unit and you must save Metal City from attacks and looting. Select your pilots, Mechs, weapons and ammunition, hire mercenaries and other units during the missions, use your skills to complete all missions.

Explore the map during each mission and the terrain, enemies and random events within the course of the campaign. Help yourself to fire, barrels filled with gas, protective walls, and access doors. Gain special skills for your pilots through experience points.

Get scrap to repair and improve your Mechs and experience points to get new skills.

EXPLORATION MAP:

Explore the map, survive in the wasteland.
Discover new places, settlements and cities. You can improve your Mech, hire mercenaries, get skills, re-stock and re-supply.
During your trip, you can get to arrive to safe destinations, or you can be forced to spend the night and to do guard in the wasteland.
The pilot is a key in Iron Wars.
When your Mech is destroyed, the cockpit is ejected. If your pilot survives on the battlefield, you can pilot other unmanned Mechs.
When a Mech is damaged, it can be damaged in the cockpit. This means that you have a hole in the cockpit and your pilot is vulnerable.
If a pilot dies he maybe can be revived at the end of the mission in the hospital in a city.

Competitive Mode:

2-4 players (expandable to 5-6 players in competitive mode)
Competitive mode with 10 pre-set Missions, Death Match and Arena modes.
Death Match: a competitive, destructive combat. If you survive you win. If your team dies, they cannot regenerate.
Arena: Inspired by MOBA style video games, if you destroy 2 enemy generator, you win. If your team dies, they can regenerate.

Preview Rulebook

Download the rulebook (beta English version): HERE

Descarga el reglamento (versión beta en Español): AQUÍ

Note: This is a work in progress rulebook and is not finalized. The design continues to be improved and artwork added.When the campaign has ended, we´ll do the translations with native speakers, so keep in mind that you can find linguistic mistakes inside the following provisional rules.

You´ll be able to choose English, Spanish, German, French or Italian language in the pledge manager.

Iron Wars pledge contains:

Rulebook and campaignbook.
14 Double-Sided Map Tiles and 12 corridors.
8 Mech miniatures.
60 miniatures (12 Claws, 4 Zimman, 4 Mechanics, 4 Rebels with bazooka, 4 Rebels with Molotov cocktail Kickstarter exclusive, 8 Pilots Kickstarter exclusive, 6 Savages Kickstarter exclusive, 6 fires, 6 Drums and 6 Wall miniatures).
8 Mech Sheets.
More than 200 cards (Pilots, characters, Searches, Spawn, Map generation, Terrain-event generation, AI, Mech improved, Mech Weapons and damage cards)
More than 200 tokens.
6 attack-defense dice and 6 damage dice.
1 Summary Sheet.

Note: Any miniatures and artwork in the game are not finished and can change.

Kickstarter exclusives are exclusive items for Kickstarter backers. The remaining stock will be available only through special promotions and fairs.
Add-Ons:

Stretch Goals:
Zusammenfassung:
Derzeit hat der Kickstarter gut die Hälfte des angepeilten Finanzierungsziels von 30.000 EUR erreicht. Die Kampagne endet am 10. Oktober 2017.
Link: Iron Wars Kickstarter