Human Interface: Be a better Human
Human Interface bekommt eine für sich alleine spielbare Fortsetzung!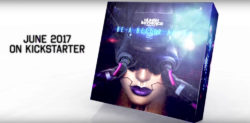 Hello everybody on another Friday.

Last time you were able to see a short teaser from the Human Interface world. If you had thought that the Nakamura Tower incident was the end of the story, you were totally wrong. It's just the beginning of trouble.
Today we might shed some light on that matter. Brand new game ready to play straight from the box as a separate product or as a supplement to the first game in Human Interface world. It's fully compatible with previous one. Click image above to watch video.

As a introduction to the story, short brief.

The aftermath of the Nakamura Incident was expectedly severe.

The assault by a mercenary group on the high management offices, compounded by the virus outbreak unleashed onto the tower defense systems, caused extensive damage, both in property and to the Nakamura Corp's network integrity. It also led to the loss of corporate command over the experimental combat AI Avatar Project. Capitalizing on the control protocols weakened by the virus attack, the artificial intelligence claimed the Avatar's body. Did it manage to slip away despite the strict physical and electromagnetic quarantine, or was it destroyed during the fierce fighting that raged across the tower? No one could tell for sure.

It took almost four whole days to bring to the building. The quarantine was finally lifted. Yet no traces of AI presence could be found.

Rescue teams combed the tower room by room in search of witnesses and evidence that could help to explain what exactly went down. Worst case scenario, they were to retrieve the corpses along with their HI's and the personality backups stored within to be examined for answers.

Ultimately, a number of people involved, both Nakamura employees and police officers on duty, were declared missing, their bodies and effects vanished.

The Nakamura Corporation managed a virtual impossibility. All available contacts, pulls, old dues and favors were drawn up on. Major sums of money changed administrative, media, government, and service hands. Although the rescue operation could have launched within a dozen hours of the incident being brought to light, the corporation bought itself over three whole days to get rid of incriminating evidence.

That's it for today
The HINT team

Quelle: Human Interface bei Facebook