Weihnachtsangebote: Von allen etwas
Es ist wieder Zeit für unsere Weihnachtswoche, und unsere Partner haben allerlei verschiedene Pakete unter den Baum gelegt!
Den Anfang macht das Fantasy-In, das uns eine bunte Sammlung geschickt hat:

Hier geht es direkt zum Fantasy-In!
Aber auch bei Radaddel hat der Weihnachtsmann seine Spuren hinterlassen!

Ich hab's im Fernsehen gesehen, der Weihnachtsmann kommt dieses Jahr in Rot….nein, nicht irgendein Rot, seine Wahl fiel auf Mephiston Red.

Wir konnten vom Kontingent des Weihnachtsmannes ein paar Sprühdosen abzweigen, und diese bieten wir den Lesern des Brückenkopf für 11,75€ an!

Radaddel wünscht frohe Weihnachten.
Hier geht es direkt zum Angebot!
Beim Fantasy-Warehouse rollt in der Zwischenzeit der Ball!

Blood Bowl (Deutsch) für 72,25 Euro – 2,5% extra Rabatt für im Shop angemeldete Brückenkopf-User.

BK-Losungswort: Weihnachtsgrüße
Hier geht es direkt zum Angebot!
Auch das Team vom Fantasyladen will die Gelegenheit nutzen, um Euch allen frohe Weihnachten und ein schönes Fest zu wünschen!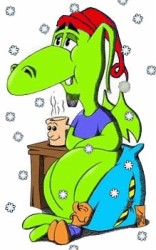 Und wer so kurz vor Weihnachten noch etwas Gutes tun möchte, der sollte sich mal dringend diese Website anschauen:

Since its launch in June 1999, The Hunger Site has established itself as a leader in online activism, helping to feed the world's hungry and food insecure. On average, over 220,000 individuals from around the world visit the site each day to click the yellow Click Here to Give – it's FREE button. Its grassroots popularity has been recognized with Web awards in the activism category — a Cool Site of the Year Award and a People's Voice winner at the Webby Awards. Since its inception, visitors at The Hunger Site and shoppers at The Hunger Site store have given more than 856 million cups of food.

The staple food funded by clicks at The Hunger Site is paid for by site sponsors and distributed to those in need by Mercy Corps, Feeding America (formerly America's Second Harvest), and Millennium Promise. 100% of sponsor advertising fees go to our charitable partners. Funds are split between these organizations and go to the aid of hungry people in over 74 countries, including those in Africa, Asia, Eastern Europe, the Middle East, Latin America and North America.
Weitere Angebote folgen im Laufe des Tages!
An dieser Stelle auch von uns schonmal viele Grüße und einen guten Start in die Weihnachtswoche!