Break: DUST: Babylon Kickstarter am Ende
Der Konflikt zwischen Dust Studio und Battlefront ist endgültig eskaliert und das übrige Geld der Backer ist wohl verloren.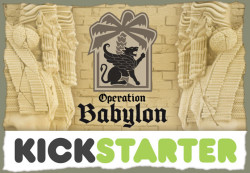 Dust Studio haben die folgende Mail an die Backer verschickt:
Dear Babylon Kickstarter Backer,

We are heartbroken to send you this message: Battlefront refuses to pay the amount due for the so called "Wave 2" of the Babylon Kickstarter campaign and therefore Dust Studio cannot deliver the items to Battlefront for distribution.

After four weeks of negotiations we still have not received a purchase order or a payment, regardless of our final and generous discount offer on the debated freebies.

During these four weeks Dust Studio has been bullied and blackmailed instead, with
Battlefront demanding the impossible from us in order for them to fulfill their obligations! They have asked us to pay them for editing and graphic design work their staff did on our rulebook, demanding a fee of over US $100,000.00.
They have requested we buy back their Dust stock — the stock that was eventually paid for to the factoring bank precisely with the revenue from the Babylon Campaign KS!

Battlefront is holding your money hostage, attempting to force us into an unbearable position and capitulate.

Please accept our apologies but we cannot accept any further humiliation. Our brand has been dragged through the mud and our reputation seriously damaged. Enough is enough!

Dust Studio has manufactured all the units listed as "Wave 2" in good faith but cannot afford nor are we willing to pay for jobs that Battlefront was never hired for in the first place, or for stock of products that have been discounted on the market for the past six months. These issues have nothing to do with the Kickstarter!

Being in breach of both our distribution and the Kickstarter agreements, Battlefront has been notified that our business relationship is officially ended.

What happens next? Why are you receiving this letter? A follow-on offer of how to receive the products you ordered will be published Sunday, May 17. In the meantime we strongly suggest that you contact your credit card company and ask for a full refund.

Please accept our most sincere apologies. And thank you for your continued patience and support.

Dust Studio Team
Eine Stellungnahme von Battlefront liegt derzeit noch nicht vor. Die Aufforderung das Geld zurückzuholen ist für die Backer vermutlich wenig hilfreich, da nach Aussage einiger Backer bereits kritische Fristen seit der Transaktion verstrichen sind.
Ein Teil der Waren wurde bereits ausgeliefert, was mit dem Rest passieren wird, ist spätestens seit heute komplett offen.