Antares: Betaregeln kommen
Warlord Games werden im Verlauf der Woche die Betaregeln für Beyond the Gates of Antares veröffentlichen.

After months of open playtesting, following the launch of the Alpha rules set to those who signed up to the playtester forum back in July, we've been eagerly gathering and analysing feedback, queries, and issues from across the globe – and using your comments to make adjustments, to update and improve the core mechanics of the game.

Behind closed doors, Rick and a small team of dedicated in-house playtesters have been working feverishly – not only to iron-out any issues and hunt down any ambiguities – they've also been beavering-away on some exciting new developments and updates….

The hard work of our Playtesters worldwide has really stoked the fires of interest and intrigue – with feedback pouring-in.

So – without further ado, this coming Friday (14th November 2014,) we are proud to announce that we'll be launching the Beyond the Gates of Antares Beta Rules Set for Open Playtesting – meaning that you can get your hands on the up-to-date core rules set from the Warlord Games website and start familiarising yourself with them before the complete game is available on general release in 2015!

I'll hand you over to the illustrious Rick Priestley – creator of Beyond the Gates of Antares, to brief you before your first mission…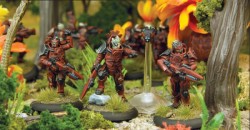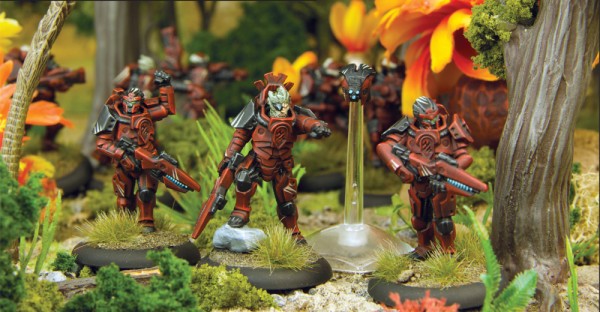 Rick Priestley: This is a pre-release version of the core system for the forthcoming Beyond the Gates of Antares rule set. We usually just call it the Antares game in the interests of saving space, time and ink. Up until now an early Alpha version of these rules has been available to players taking part in the Antares playtesters forum. Since producing the Alpha version we've been working to refine the core rules and get everything ready for the wider gaming public. That is what we have here – our Beta Edition.

The Beta Edition is still a way off from a complete game, but it has all the essential elements needed to play using the sample forces described. As such it includes rules for infantry combat and various support weapons of different kinds, but it does not as yet cover vehicles, buildings or provide complete rules for terrain. Rules for terrain are given in functional terms – rather than defining every kind of possible scenic feature – but we feel this will present few problems to gamers of any experience.

Lastly – I'd just like to personally thank everyone who has contributed to our original closed playtests and the subsequent Alpha playtesting, without whose valuable input we wouldn't be where we are today. I'd particularly like to mention Andrew Chesney who has coordinated our efforts at Warlord Games and taken part in most of our games, Nick Simmerson who has joined us most weeks and contributed many great ideas to the mix, and sculptor Wojtek Flis who has not only realised many of our Antarean warriors as models, but also contributed many innovative rules ideas and a good deal of enthusiasm. Thank you.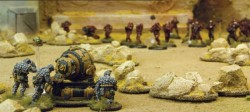 Playing a game

The Beta Edition provides all the rules needed to play a game using the forces described in the sample armies. As such it includes rules for infantry combat and various support weapons, but it does not as yet provide complete rules for vehicles or large machines.

Rules for additional types of troops, vehicles, terrain and much else besides are under development and will be available to download from the Warlord Games Beyond the Gates of Antares forum for those who wish to try them out.

The Different Forces

We have worked out sample armies for all the forces described in this edition. Players can reduce or add to these by dropping or adding further units to make forces that are smaller or larger. Although this 'point value free' method was initially chosen as a pragmatic solution prior to developing proper army lists, it's something we've rather come to enjoy as a welcome break from endless calculations and the minutiae of points values… perhaps that's just us! We've not made a decision on how this will be handled in the rules when published next year.

Additional and expanded sample armies and developmental lists will be available to download from the Warlord Games Beyond the Gates of Antares forum when they are ready.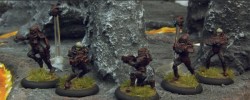 The Antares model range

Models for the Antares game can be purchased from Warlord Games and all good hobby stores throughout the galaxy. Models will be released in batches when they are ready beginning November 2014. The first releases will cover the sample armies described. At the time of writing we have much more in development and it is fondly imagined these will be released throughout 2015.

Plans for the future

We are working on all of the forces described in the background section as well as a new series of aliens, various vehicles and more drones. We are also planning to make additions to the existing forces that will enable us to build variant armies for the Concord, Isorians and so on. Once we are ready we plan to publish the game as a rulebook and release our first plastic troopers and vehicles.

Algoryn Infiltrator – all members of Algoryn AI Infiltration Squads are female.
Where can I find out more?

You can find more about the Beyond the Gates of Antares Game and universe on the Warlord Games website, where you can also download additional material for the game and – hopefully – watch us demonstrating the game and showing you some of our work in progress.

Setting up a game

An introductory scenario is included in the Beta rules to give an idea of how games can be set up and played, and how to establish winners and losers.

As astute readers will probably have guessed by now, we'll also be adding more scenarios for you to download from the Warlord Games Beyond the Gates of Antares forum as they become ready.
Quelle: Warlord Games