Dropzone Commander: Fragerunde mit Dave II
Wir haben weitere Informationen zusammengetragen, diesmal auch einige Details zu den Spielregeln.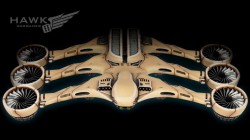 Generelle Infos:
At bit of conversion work shouldn't cause arguments, proving you don't do anything really crazy, like make it twice as big as before!
We'll be sorting out a forum in the near future. For the moment I'm concentrating on finishing things up, and couldn't give a forum as much time as it would deserve. As soon as the game is out though, one will appear!
We'll be working on new releases as soon as we're done with this lot, so expect to see a steady flow of new releases from us in the near future. I've got years worth of plans for Dropzone Commander
The rulebook contains lots of fluff! More than double the amount that's on the site!
AA units are pretty brutal against aircraft (they're supposed to be after all!). Skilful placement of these will protect your units from strafing/ having units dumped right on their doorstep. Obviously, you can use your tanks to neutralise air defence :-). All this gives much cause for fire and manoeuvre, even for ground units.
Spielregeln:
REALLY rough turn overview: 1) Initiation – roll for initiative, play certain, roll for reserves etc, 2) Actions – players take it in turns to activate one battlegroup at a time, completing the actions for each squad within in (move, shoot etc, although you can shoot then move also) 3) Roundup – act on any 'end of turn' abilities, check victory conditions.
You could hinge everything, would be really fiddly though! Might make a nice project. The resin parts feature very snug tolerances, so will more often than not hold together without glue (but will obviously come apart if knocked!)
We're still in the final stages of finalising points costs, but army wise it'll be similar to 40k in base (eg 1000-2000 pts per normal game). Can't say exactly what the army sets are right now, but will very soon! As I've said, the Large army will be more than adequate for tournament play (think about 1500pts for a comparison), the Mega army for grander tournaments/ giving you more flexibility in choices. Depends on what sort of tournaments clubs want to organise tbh, as the starter sets are playable armies themselves!
The Medium Gate can indeed move 3 tanks or one walker at a time. Will be adding 'carries/ can be carried in' entries to all the units on the site when I get a chance, should have been there from the start if I'm honest, although you can use the army deals to work it out for the moment (as you have done!)
Tanks etc operate in squads, and move together. They CAN independently target though, and be independently targeted. This works well in practice, and heightens realism. Also, it makes the 'squad of 9 tanks vs 3 squads of 3 tanks' end up as a fair fight (as it should do!), rather than you having to pour all nine into one enemy squad of 3!
1D6 with modifiers per shot generally. 2D6 does kick in occasionally though! Cover can block line of sight or add modifiers (either to accuracy, armour or sometimes both!)
There is a damage chart, some units get saves and a fair number have more than one damage point (eg larger aircraft, heavy tanks, big walkers, infantry bases etc)
Some units are fragile (eg scouts) and some can absorb multiple hits (eg heavy tanks). Obviously armour is also a big factor in survivability. The game is designed to play out in a gaming night though, so don;t expect your tanks to absorb massive punishment! Think of them as 28mm soldiers in terms of toughness. Obviously, bigger stuff will last longer! Measurement always from the centre of the unit's main body or base
True LOS, except for aircraft. As you point out, altitude vs flight stands could be a sticking point! As such, LOS is normally measured from a point 6″ above the centre of the flying base. Also avoids overly tall and unstable flight stands!
UCM tanks low observability does indeed have rules! They can fire from behind low cover, but after doing so they can suffer return fire (but count as hull down).
Hard to be specific, but for a ground unit, the very fastest skimmer can manage 12″ moves, and the slowest tank plods along at 3″. I'd say about 4-6″ is typical for most ground units. Dropships are considerably faster obviously (12-36″ typically). As for shooting (and against units with countermeasures – like tanks), directed energy (eg lasers) get infinite range, high velocity weapons (eg railguns) around 24″, low velocity weapons (like rockets) about 9″ – can vary a bit though, but always in multiples of 3 to keep remembering things easy!
The building are modular and tile based, so there are literally thousands of combinations! Certain styles do match well, so looking at it that way we have something like 10 set styles in around 50 distinct tiles, but don't quote me on this, no time now to work it out right now! Will be fully detailing the range closer to its release.
The command cards add small but often influential tactical actions to games. On the simplest level it might improve a unit's accuracy for a turn, but sometimes it'll be much more complex, such as intel discovering and underground tunnel between two buildings. You can hold/ play certain number per turn – the higher ranking your commander, the more cards you can play! If your commander is killed, you discard down to next in chain of command.
4×4 boards work well, but larger is good also. Covered in greater detail on the website's FAQ section
Squads within battlegroups activate simultaneously, then each squad within the battlegroups completes its Actions (moving, shooting etc) in turn. Squads within battlegroups do NOT have to stay in coherency with each other though, and can thus go their separate ways.
A few squads (such as the wolverines as you point out) may have multiple weapons options, which you're normally free to dish out as you please.
Being in a squad gives more units per slot in force organisation mainly. Also, since they activate together they can make an impact in one go. Generally, squads are there to keep activations and organisation manageable. Also, squads need to be of a certain size to fit into dropships, which must start the game filled.
The physical size of the flying base is pretty much irrelevant in game terms, since the centre is used for measuring distances, so feel free to model your own if you prefer!
Dropships have to be filled at the start of the game (it's efficient militarily after all!) This stops people taking heavy dropships with just one tank in it.
Dropships generally stay on the field, and can be used to re-locate their cargo. this is often necessary as the tactical situation can change very quickly during the course of a game
You can have more than one dropship in each battlegroup. You're right also, in that each battlegroup only activates once per turn.
Structures are very important to the game, and there is an extensive ruleset for them! They can indeed be destroyed also. Some units (such as the UCM Seraphim with its bunker busters and the PHR Enyo Seige Walker) are designed specifically for this purpose!
Other scenarios will involve demolishing certain structures, attacking an entrenched defender, searching a crash site, there will be plenty! Games where there are attackers and defenders will obviously necessitate certain force structures, sometimes the scenario will give a defender some ground troops already in place, with reinforcements arriving by dropship for example.
When infantry are in a building they can be fired upon directly from the outside IF they've elected to fire from the windows, otherwise you'll need to either flush them out with your own infantry, use flame weapons or demolish the building! Also, falling masonry damage will kill occupying infantry, so they can be harmed before the building actually comes down!
There are various rules for terrain types, and the unit's mode of movement (eg normal, walker skimmer) does have a effect!
Quelle: Hawk Wargames auf Facebook