Army Painter: Renegaten Colour Guide
Auf den Colour Guide für die Space Marines folgt einer für Chaos  Space Marines.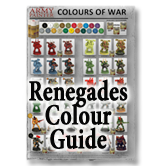 Following last months' popular 2-page Colour Guide pdf on various colour schemes for Space Marines – we have now uploaded an extra page looking at Renegades Chaos Space Marines.
Following the usual simple Army Painter Technique, the new Colour Guide pdf demonstrates the combination of various Colour Primer sprays and Quickshade dip.

Get more time for gaming!

The inspirational Colour Guide PDF is ready for download from http://admin.thearmypainter.com/files/downloads/pdf/40K_poster_renegades.pdf  

For more information go to: www.TheArmyPainter.com
In Deutschland ist The Army Painter unter anderem bei unseren Partnern Fantasy In und Radaddel erhältlich.
Link: The Army Painter