Deathwatch: Mark of the Xenos
Fantasy Flight Games haben eine neue Erweiterung für ihr Deathwatch-Rollenspiel angekündigt.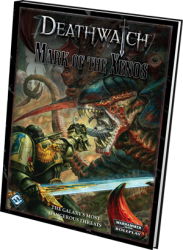 "The Deathwatch must remain ever vigilant against the xenos. The Enemy Within may tear at the Imperium's heart, and the Enemy Beyond may threaten the Imperium's soul, but the Enemy Without presents a unique danger; alien civilisations that stand in the way of the Imperium's destiny to conquer the galaxy."
– Codicier Taelon, Deathwatch Librarian
Das Buch soll im Frühling erscheinen.
Quelle: Fantasy Flight Games