Ambush Alley: Kalter Krieg Neuheiten
Der kalte Krieg wird heiß: Ambush Alley macht mit einer 132-seitigen pdf-Datei ernst. Der Download kostet euch 20 Dollar.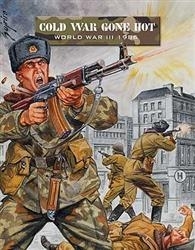 With these words, spoken as a sound check to a radio broadcast, President Reagan came dangerously close to igniting the long-simmering Cold War. Although Soviet forces were placed on alert following reports of this comment, the full-scale conflict between the West and the Soviet Bloc did not break out. Cold War Gone Hot, the latest companion volume for Force on Force, looks at the 44-year history of the Cold War and asks: "what if?" With the orders of battle, vehicle stats and missions included in this volume, Force on Force players can simulate the advance of Soviet tanks across Western Europe, a thrust into Alaska, or any number of other plausible scenarios where history took a slightly different path.
Quelle: Ambush Alley