Dark Age: Downloads aktualisiert
Dark Age Games haben ihre Downloads an ihr neues Regelwerk Apocalypse angepaßt.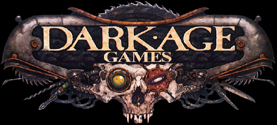 Made some minor cosmetic changes here and there, most importantly updates to the Downloads Section!

– Quick Start Rules have been updated and are 100% in-line with the upcoming release of Apocalypse.
– Counters and Templates have been updated
– Quick Reference Sheet has been updated
– Downloads for ALL Forcelists are up!
– Downloads for ALL SA's and WA's are up!

Most of the Downloads of the Forcelists, SA's, and WA's are Beta versions. There are minor discrepancies between the Forcelists and the content in Apocalypse, but there is enough to get you started playing the game. Shortly all the cards for all the Units will be available for download as well. Enjoy!

http://www.dark-age.com/main.php
(See the Menu sidebar for appropriate Downloads links)
Zusätzlich haben Dark Age Games ihren eigenen Online-store geschlossen und verlinken nun zum CMON-Online-Store.
Link: Dark Age Games