Wargames Foundry bietet ein weiteres Regelwerk an, diesmal für Western Szenarios unter dem Namen "The Rules with No Name". Das 136 Seiten-Regelwerk wird für 25 GBP angeboten, damit vom Umfang und Preis auf Augenhöhe mit Warhammer Historicals "Legends of the Old West".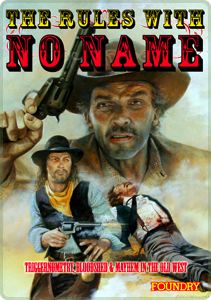 Das Regelwerk bietet alles für Pistolengefechte zwischen Cowboys, Desperados und Indianern. Klassische Aufeinandertreffen werden mit 28mm Miniaturen mit einem einsteigerfreundlichen Regelwerk umgesetzt.
Dabei deckt das Regelwerk folgende Banden ab:
• Einfache Pistolieros
• Indianische Kriegerbanden
• Soldaten
• Pferde (und ihre Reiter)

Außerdem eine breite Masse an zusätzlichen / optionalen Regeln für alle möglichen Waffen, Gebäude, Zivilisten und vieles mehr, wie z.B. Karten, Marker und einen Malteil. 

Kurz um, das Regelwerk kommt mit allem was zum Spielen benötigt wird inklusive Charakterkarten, Aktionskarten, Eventkarten für Betrunkene, Passanten, Bögen für Verletzungen und Eigenschaften und noch ein paar Sachen mehr.
Direkter Link zum Produkt bei Wargames Foundry: The Rules with No Name.
Quelle: Wargames Foundry