Bell of Lost Souls: Adeptus Arbites Mini-Codex
Die Fly Lord of Terra haben einen weiteren Mini-Codex herausgebracht. Nach dem Kampagnenband "The Macharian Crusade", der Spielhilfe "Lord of Battles" und dem Mini-Codex für Symbionten Kulte "Genestealer Cults", bietet uns Bell of Lost Souls nun einen weiteren Mini-Codex, die Adeptus Arbites.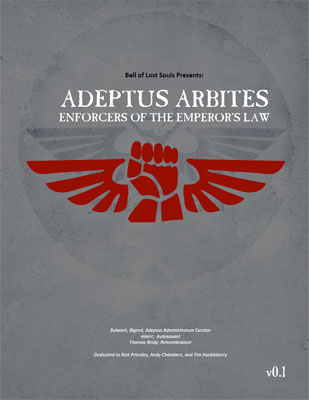 Dabei bietet der Codex auf 22 Seiten neben der Armeeliste auch Hintergrundmaterial, Besondere Charaktere und sogar einen Apokalypse Verband.
Der Codex ist 2,1 MB groß und ihr benötigt einen PDF-Programm zum öffnen, wir empfehlen Foxit!.
Download Link: PLAY-AID: Adeptus Arbites Mini-dex from BoLS.
Quelle: Bell of Lost Souls